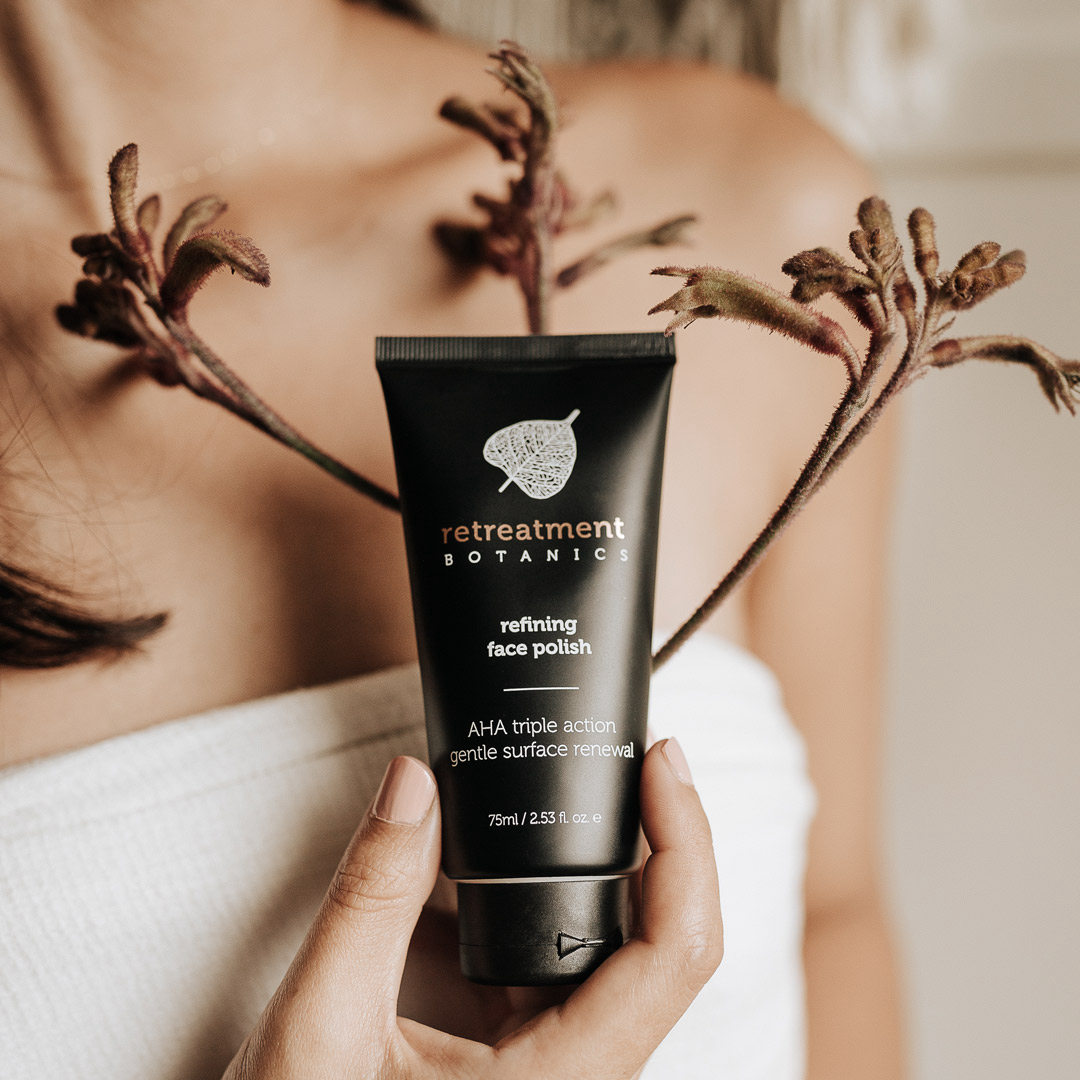 5 MINUTE MORNING SKINCARE ROUTINE
If you find yourself rushing out the door every morning and skipping out on your skincare, chances are your skin isn't happy. It's important to lift away any excess oil and dirt from the night before that can further cause breakouts and fine lines. Keeping your skin hydrated from any dryness and protected from pollution is key. Your morning routine will restore and protect your skin throughout the day to keep your skin youthful, and it'll only take 5 minutes!
Follow along with our quick 5 step skincare routine that will make a lasting impact on your skin every morning. With continued use, you'll notice a clearer, healthier complexion.
STEP 1: GENTLE CLEANSER
Right after you wake up, a lightweight cleanser that's gentle on your skin in the morning will help deep clean without over-drying your skin. The Scout Cosmetics Daily Revitalise Cleansing Crème will brighten and refine your skin with this active cleanser. Infused with lemon myrtle, papaya, and coconut oil to nourish and purify the skin from environmental pollutions. The perfect cleanser to detoxify your skin each morning that'll make you feel refreshed and ready for the day.
STEP 2: LIGHT SCRUB
Any extra dirt and grime left on your skin is gently buffed away by a quality exfoliator. The Retreatment Botanics Refining Face Polish a brightening, triple action face exfoliant with AHA rich Lilly Pilly and gentle fruit acids to dissolve dull surface build up. Kaolin clay draws out excess dirt, oil and impurities while eco-friendly Jojoba beads refine the skin, revealing a soft, smooth, luminous complexion.
STEP 3: ESSENCE TONER
You might think your cleanser got rid of all traces of dirt or leftover makeup, a toner will help balance your skin's PH while enhancing the absorption of your serums and moisturizers. The Province Apothecary Invigorating + Balancing Toner is an alcohol-free essence-based formula is infused with rose flower water and geranium to control the appearance of oil and boost a youthful glow. Simply spritz on your face right after your cleanser and allow it to dry before the next step.
STEP 4: ANTIOXIDANT SERUM
Your morning routine is all protecting and preventing, this is why an antioxidant-rich serum with a high concentration of organic ingredients is important to protect against damage caused by pollution, dirt, oil, and sun. A lightweight hemp serum such as the Dope Skin Co Antioxidant Botanical Facial Serum is formulated to regenerate your skin at a deeper level. This antioxidant-based serum will help regulate sebum production, leaving you with reduced fine lines and plumper skin.
STEP 5: PRACTIC GUA SHA
If your skin is feeling a little puffy and tired from the night before, practicing Gua Sha for a few minutes every morning will energize your skin and relax your muscles. After applying and massaging in your serum, using the Orchard St. Rose Quartz Gua Sha in gentle upward strokes under the eyes, across your forehead and jawline will help depuff and encourage lymphatic drainage. Rose Quartz is the ideal stone for your morning routine for its soft tender energy to heal and nourish.
STEP 6: LIGHTWEIGHT MOISTURISER
After using your Gua Sha with your serum, finish off your quick 5-minute routine with a lightweight moisturizer to seal in hydration throughout the day. If your skin is on the oil-prone side, using a hyaluronic acid-based moisturizer will help plump and keep your skin smooth all day. The Scout Cosmetics Balance & Replenish Light Moisturiser is infused with the most potent ingredients such as Fig and Bergamot, Rosehip Oil, Hyaluronic Acid, and Vitamin E & C. The ideal moisturizer will nourish and replenish your skin for a healthier complexion. You don't want to skip this step with your morning routine!
"
Skincare can vary from person to person, but keeping a quick routine with a few essential items can make a difference in your skin concerns while helping you look youthful throughout the day.

"