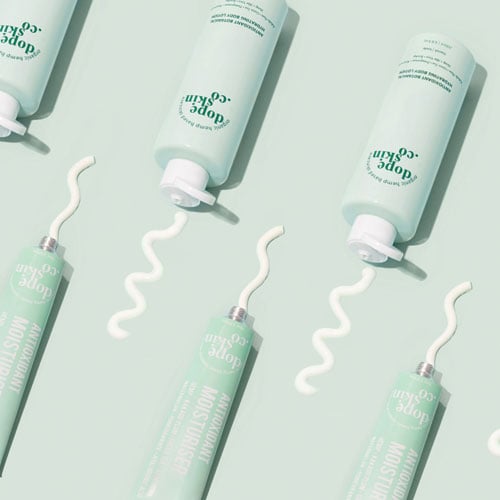 5 PRODUCTS TO KEEP YOU HYDRATED DURING AUTUMN & GET YOU PREPPED FOR WINTER
With winter only a couple of months away (how did that happen so fast?), now is the time to prep your skin for the fresher weather ahead of us.
Environmental factors, such as indoor heating, wind and sudden temperature drops, can all cause skin sensitivities. And wearing more layers of clothing can prevent your skin from breathing and getting as much natural Vitamin D from the sun as it does in the warmer seasons.
Finding a range of moisturising products that nourish and protect from harsher conditions is essential to keep any dryness at bay and put you on the highway to hydration.
Just like a good slice of warm winter toast, layering on butter is exactly what your skin is craving. The Ananda Life Luxe Body Butter is just the thing for that much-needed indulgence. The extra rich consistency is simply divine after a shower or bath; made with solely plant-based ingredients, this is the definition of skin food. Cacay oil contains natural retinol, which is the component when it comes to anti-ageing, combined with coconut, jojoba and sweet almond oil; this is a must-have on your winter skin list, plus a little goes a long way, so you relish this luxury cream for longer.
If your skin is on the oilier side, sometimes such a dense moisturiser isn't quite the right fit, but this doesn't mean you have to dehydrate in Sahara Desert like territory; this is where Dope Skin has your back (and front). Their Hydrating Antioxidant Body Lotion has a lighter texture that maintains your skin's healthy glow and is suitable for all skin types. The high concentration of botanicals and hydrating superfoods, such as aloe vera juice, retain your natural moisture levels - not just for those dreaded summer sunburns! The mango and shea butter also leave you with long-lasting fresh, fruity notes. The easy to carry bottle is excellent to take on the go and top up as you need on those extra chilly days, pop in your handbag, and you are ready to roll.
"
All seasons are self-love seasons!

"
Our facial skin often suffers the most during autumn and winter as it is almost always open to the elements that can strip away our natural oils and protective barriers. The Grown Alchemist Hydra-Repair Treatment Cream is an absolute favourite for this time. This sumptuous cream effortlessly sinks into your skin without any greasy residue, making it perfect for both your morning and nighttime routines. Grown Alchemist uses the finest in bioactive ingredients to achieve the best results, and the Hydra-Repair is no exception, with soothing Camelia and Rosehip oil in addition to Cane Sugar extract that reduces lines, imperfections and leaves you with the softest, smoothest skin ever!
Another great product to prep and nourish your complexion (whatever the weather) is a hydrating mask; use it once or twice a week to gently remove dead skin cells and balance both the tone and texture at the same time. We love the Zuii Organic Hydrating Clay Mask, full of super-food ingredients that produce radiant-looking and feeling skin from deep within.
Lastly, why not treat yourself this autumn with your seasonal grooming and try one of our most adored products, the Maison Louis Marie No.04 Bois de Balincourt Body Oil. The scent alone is to die for; full of character, allure and earthy undertones, with the use of Sandalwood, Cedarwood and Vetiver creating an unforgettable fragrance. It's also infused with a divine body oil, rich in Vitamin E and antioxidants that protect from free radicals that leave your skin feeling seriously loved this time of year.
More Moisturising Options Here