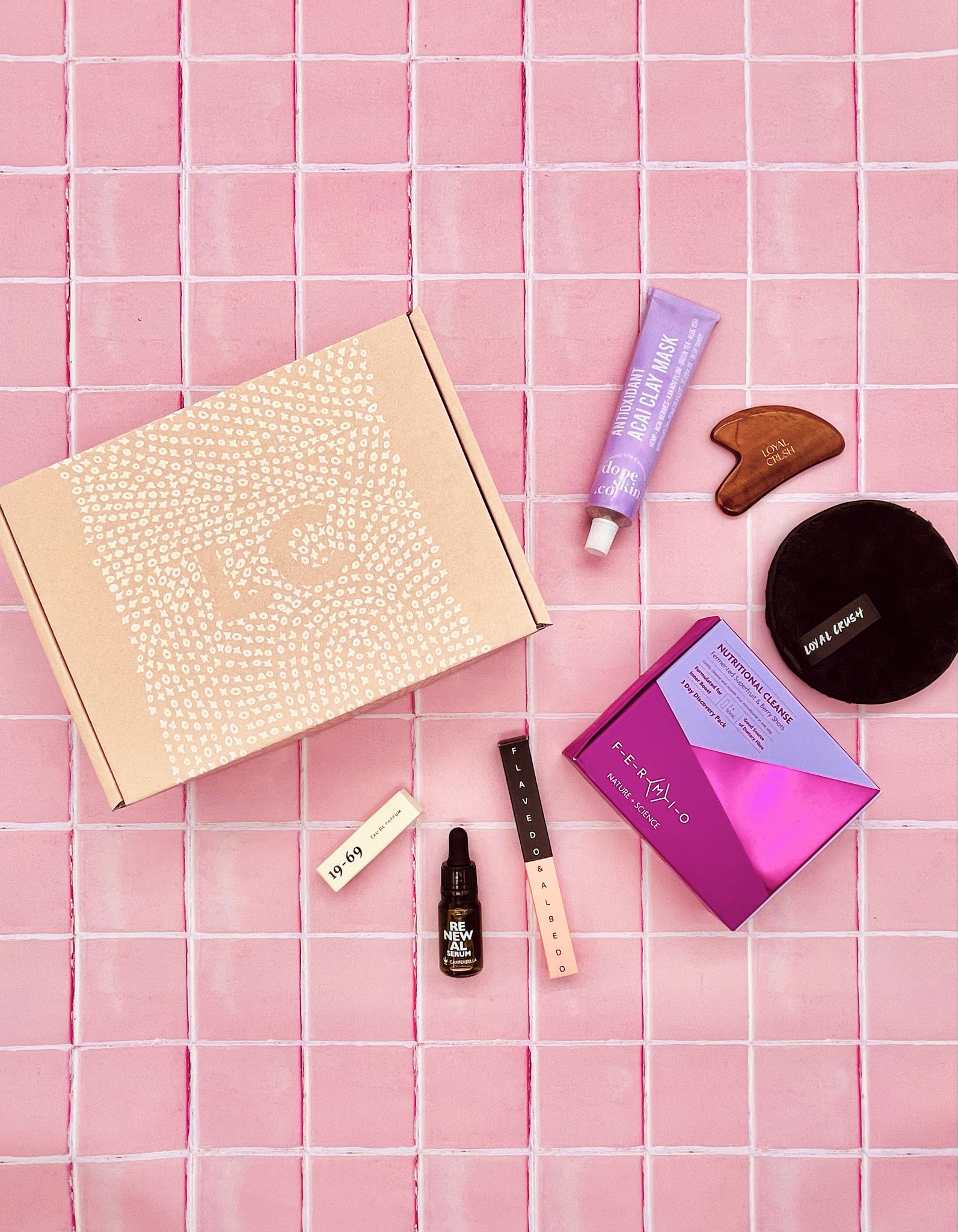 A Rundown Of Our New Retreat Box!
Taking a moment, now and again, to connect with your well-being and practice self-care is a beautiful rhythm to get into. It's not always easy to remember to switch off and be present; we are all guilty of burning the candle at both ends and not allowing our bodies or minds to reset.
Often a ritual from the comfort of your home can be just the remedy you need, and our brand-new cruelly-free Summer Retreat Box has all the tools and tricks to assist in some TLC. Carefully curated with a selection of our favourite products, this box is designed for a special treat to gift someone or yourself, so let's take a look at what is inside!
Getting into the habit of looking after your skin will keep you glowing and have you feeling great on the inside too, which is why we have put together a few beauty must-haves for you to luxuriate in. The Dope Skin Co Antioxidant Acai Clay Mask provides a divine detoxifying facial. Introducing this at least once a week will naturally renew the surface of your skin; brimming with vitamins, superfoods and antioxidants, this mask is literally a miracle in a tube. The purifying properties of salicylic acid, kaolin and acai berries work to draw out impurities, remove dead skin cells and control your sebum production without stripping essential oils. Simply apply to freshly cleansed skin and leave on for ten minutes before rinsing with warm water; you will be left with a clear, bright and even complexion.
The retreat box also contains the Canabella Renewal Serum, a bottle packed with botanical ingredients that hydrate and deeply nourish. We love pairing this with the exclusive Loyal Crush Tigers Eye Gua Sha (also included) for the ultimate at-home face massage and lymphatic drainage. This tantalising tool works wonders on tired puffy skin, with smooth, curved edges that ease inflammation whilst lifting and sculpting the face. Using a few drops of the serum, apply the gua sha with slow, upward motions across your face, starting at the neck and jawline. This therapeutic practice can help to combat stress, giving you a few minutes to focus and be mindful whilst carrying out your rejuvenating regime.
Level up your self-care with Fermio Nutritional Cleanse, our retreat box contains a three-pack of their delicious super-food shots. The nutrients from eighty-eight triple-fermented whole foods combine to nurture and promote a healthy working gut and digestive system. Each bottle helps boost and sustain energy levels by priming your natural microbiome and supporting your immune system so you can go about your day with an extra pep in your step. The best part is that they are effortless to incorporate into your lifestyle. Fermio believes that taking action regarding your health and well-being doesn't need to be complicated, each product is cleverly created to be convenient and effective so you start reaping the benefits immediately.
It wouldn't be a Loyal Crush box without some makeup staples! The Flavedo & Albedo Bright Stripe Black Eyeliner is perfect for achieving an ultra-defined look. Whether you want a dramatic cat-eye, a subtle flick or just a little extra drama, this wax-based crayon ensures an immaculate application and glamorous result. Don't forget; it is beauty 101 to always take your makeup off before bed, so we made it easy with the Loyal Crush Makeup Remover Pad; this super soft, reusable pad is kind to your skin and the planet.
The Summer Retreat Box is topped off with the 19-69 Rainbow Eau de Parfum, an intoxicating aroma of bergamot, bourbon, and vetiver that leaves you with a fresh but fierce scent. We love this uplifting perfume, a fragrance that gives an electric feeling and reminds you to channel your individuality in any way you like. Enjoy the curated playlist whilst unpacking all your goodies and tap into the Loyal Crush online magazine and wellness centre. Here you will find information on all our products as well as guided tutorials and online articles for both your beauty and health needs!
Perfect for a gift, gesture or some much-deserved indulgence.
Shop our Summer Retreat Gift Box 2023 here!
"
Perfect for a gift, gesture or some much-deserved indulgence

"
You may also like our Self Care Colleciton