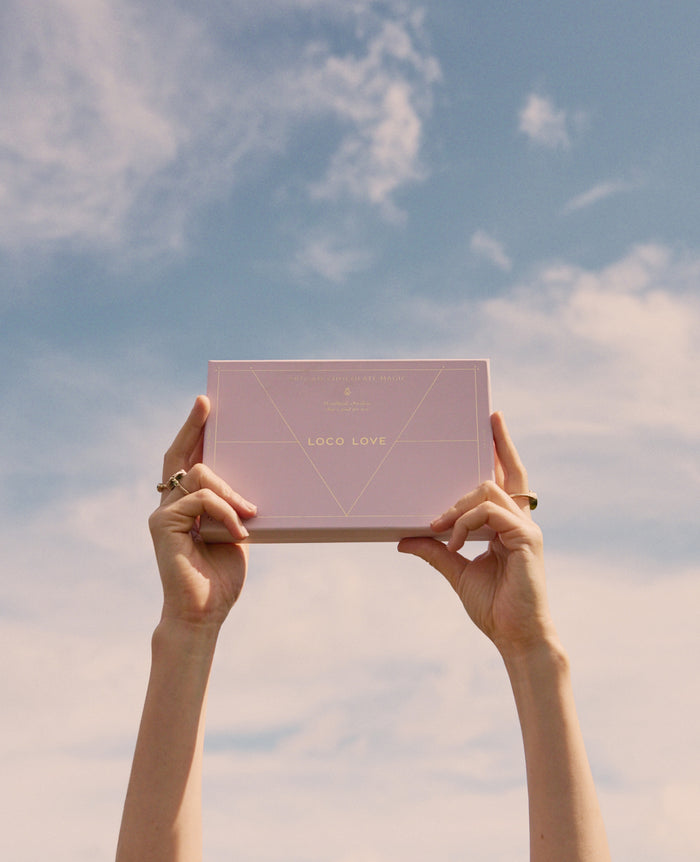 About Loco Love
Local legendary company, Loco Love, are the epitome of a chocolate lover's dream. Their unique health-infused artisanal treats show that indulgence and well-being do not have to be mutually exclusive. Move over, Willy Wonka, founder Emica Penklis has cleverly channelled her experiences in fashion design and naturopathy to create a one-of-a-kind company and an incredible range of elegant edibles.
By utilising the flavours and benefits of plant-based whole foods, healing spices, probiotics, herbs and medicinal mushrooms with mouthwatering cacao, Emica has established a brand and a lifestyle dedicated to food and the synergy of love that comes with it.
Each devourable delight is vegan, free from fillers, preservatives or refined sugars. As they say, true love takes time, so nothing is rushed, and each and every part of manufacturing is carefully reviewed. A large part of their approach is to create consciously while making considered choices concerning the consumption cycle. Their cacao is sourced from a small, sustainable farm in Peru, and all their nuts and berries are harvested from the local Northern Rivers region.
Their twin packs are perfect for sharing and come in various colourful picks. The pretty in pink, Black Cherry & Raspberry is made with Schisandra. This potent adaptogenic herb helps increase energy and your body's natural resistance to physical, emotional and environmental stressors so that you maintain your gorgeous glow. The Schisandra is what gives this chocolate its sour, fruity flavour and combined with the antioxidant-rich cacao; it is the ultimate guilt-free treat.
The happy in yellow Almond Caramel Crunch is another favourite. Packed with nutritious nuts and a delicious textural bite, it's hard to believe this is good for you, but it is! This one is made with Ashwagandha, a crucial herb in the Aryuvedic diet, due to its long list of benefits, including lowering blood sugar levels, increasing brain function like memory and focus as well as relieving symptoms of anxiety and stress. If you need a little pick me up, we suggest the Hazelnut Butter Praline; the smooth centre is irresistible and infused with Maca Root and Ginseng. These work together to elevate your mood and realign imbalanced hormones giving you a new sense of vitality.
The popularity of Adaptogenic tonics is on the rise and Loco Love's Higher Being Medicinal Mushroom blend is pure magic. It tastes like a rich hot chocolate laced with therapeutic herbs and roots that take this ritual to another level. Reishi, Ashwagandha and Ginseng stimulate a healthy immune system, rejuvenating your energy levels whilst calming a busy mind. This tonic is another example of Emica's ability to embrace nature's rich and nutritious gifts and elevate them into inspirational treats and superfoods.
Loco Love is always a great gift; our exclusive Five Minutes Alone Bundle is ideal as a thoughtful gesture this festive season or when a loved one needs a little extra love. This curated pack contains a decadent Lover's Box with a choice of nine different chocolates alongside the enchanting No. 6 Maison Louis Marie Candle and a stunning vegan leather journal from Magic of I, a private place for thoughts, ideas and inspiration. This bundle represents a moment to be present, enjoy the aromas of the candle, take a minute to collect your thoughts and feel a sense of gratitude and delight with every single bite from Loco Love.
Find out more about these high-vibrational treats at a href="https://locolove.com/">Loco Love's website, or shop from our collection at Loyal Crush; trust us, it is worth the hype.
"
Their unique health-infused artisanal treats show that indulgence and well-being do not have to be mutually exclusive

"