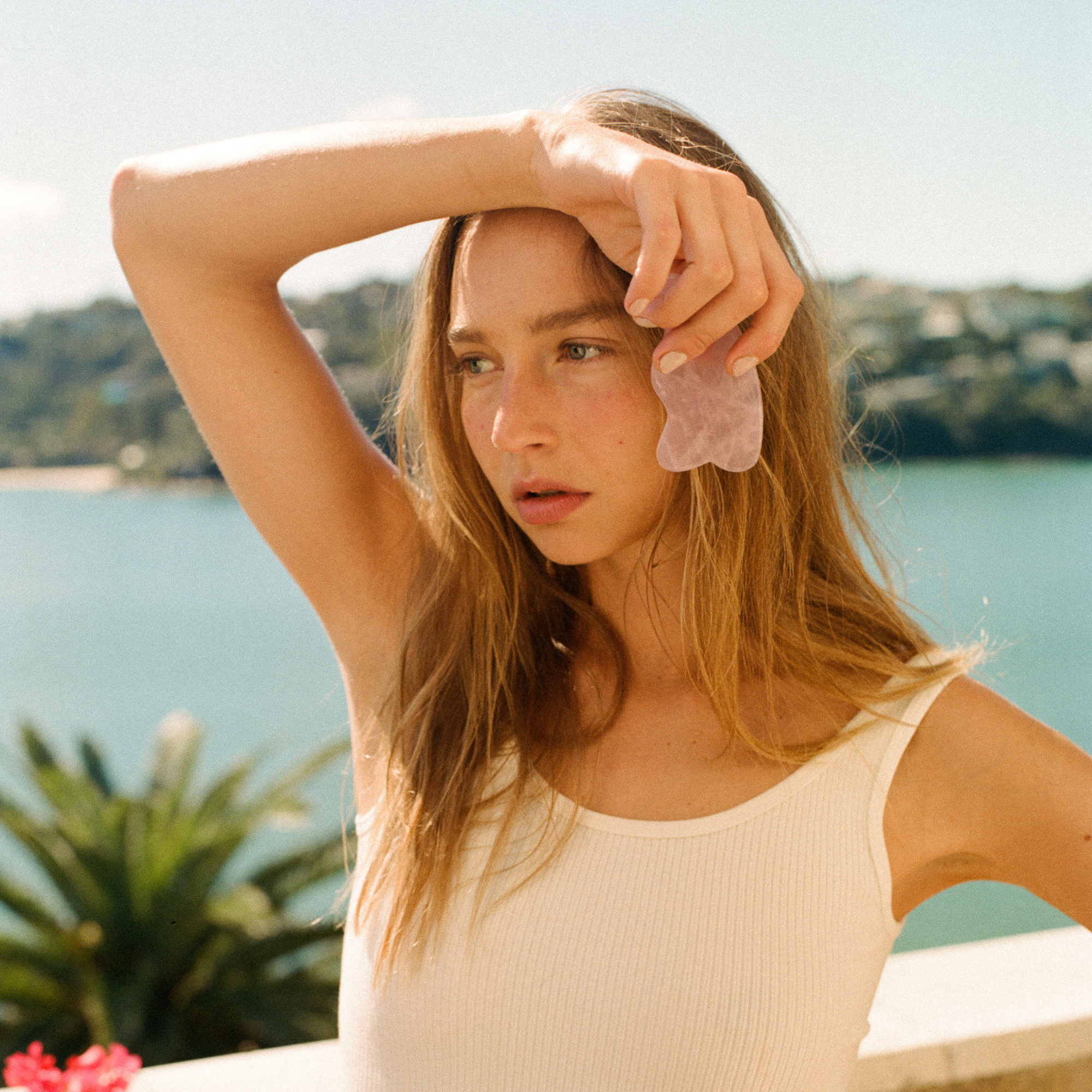 Beginners Guide to Gua Sha Facial Massage
If you've been scrolling around Instagram and seeing a little flat pebble used in facial videos, also known as the Gua Sha facial tool. If you're curious about this facial tool, we've got you covered. All you need to know to start your skincare routine with the gua sha begins here.
The Gua Sha has been making waves in the skincare community, this ancient Chinese skincare tool has been used for centuries for its ability to relieve muscle stress, stimulate microcirculation and boost collagen production. When used according to your skin type, this facial tool can heal inflammation and sagging skin to massage the skin's surface. The key here is to restore blood flow to boost a healthy glow caused by poor circulation and sluggish lymph flow.
Draw Attention to One Aspect of Your Makeup
French women will mostly choose one special part of the face to highlight, whether that be a vibrant lip or dramatic eyes with a smokey lid.
The signature red lip is a staple French look, it adds chic, drama and can be worn with jeans and a t-shirt, as well as a cocktail dress. Often you can wear a red lip with a clean face and very little other makeup.
Less is more when it comes to the French approach!
1) PICKING A STONE
With so many shapes, sizes, and crystals, it's important to use the right Gua Sha stone for your facial routine. As the most common Gua Sha stone, the Nephrite Jade generates heat in the face to stimulate blood flow. The Orchard St Nephrite Jade Gua Sha can help you achieve firmer skin while boosting collagen production. This traditional dark green gemstone can balance and uplift your skincare routine to sculpt your facial features.
If you're looking for a stone for sensitive skin, the rose quartz gemstone is a pastel pink stone to help awaken your skin and heal any acne or pigmentation. The Orchard St Rose Quartz Gua Sha can be used to help detoxify the skin and help improve inflammation.
2) PREP THE SKIN
Before you start using the Gua Sha facial tool, it's important to prepare your skin for the tool to glide smoothly. To avoid any unnecessary tugging of the skin, apply an organic facial oil or Hyaluronic acid all over your face in gentle tapping motions. Apply a generous amount on the skin as the serum will begin to absorb with the Gua Sha tool.
The Retreatment Botanics Kakadu Brightening Serum is the perfect pairing for the Gua Sha tool, formulated with vitamin C and Hyaluronic Acid to deeply hydrate and plump the skin while targeting uneven skin tone.
3) FACIAL TECHNIQUES
Now that your skin is ready for action, grab your Gua Sha and start with slow, gentle strokes upwards. Using light pressure for your first use. Don't start too hard with your first use. If you press too hard you may see some red marks that will go away in a matter of time. Practice using the facial tool in outward and upward motions over the facial serum. Get comfortable with your techniques to benefit your skin concerns in the long run.
You can also hold your skin taut for a firm press against your skin. You can use downward strokes on areas of your neck to drain lymph nodes and smooth away necklines. Gently glide the Gua Sha 5-10 times on each area for the best result.
4) MORNING OR NIGHT?
Consistency is key to bringing a healthy glow to your skin. Whether you use it morning or night, practicing it daily will help release any muscle tension in the skin and promote blood circulation. Depending on your skin type and tolerance, using it daily or a few times a week to improve circulation and lift your skin. Follow up your Gua Sha massage with a moisturizer, eye cream, and your favorite serum for best results.
The Gua Sha works fantastic for your at-home facial to take a break and relax. Create a calm atmosphere, maybe light a candle or some aromatherapy for a truly relaxing experience.
If you're looking for a relaxing massage technique to add to your self-care ritual, this Chinese art of facial lifting will help release muscle tension and while uplifting your energy. Find the latest skincare tools now available at Loyal Crush
"
This massage technique also works wonders for its sculpting benefits for chiseled cheekbones.

"
Gua Sha & Sculpting Tools
Gua Sha & sculpting tools are developed from ancient beauty practices and aid as a facial tool to reduce bloating, detox skin, relax facial muscles and boost collagen production.