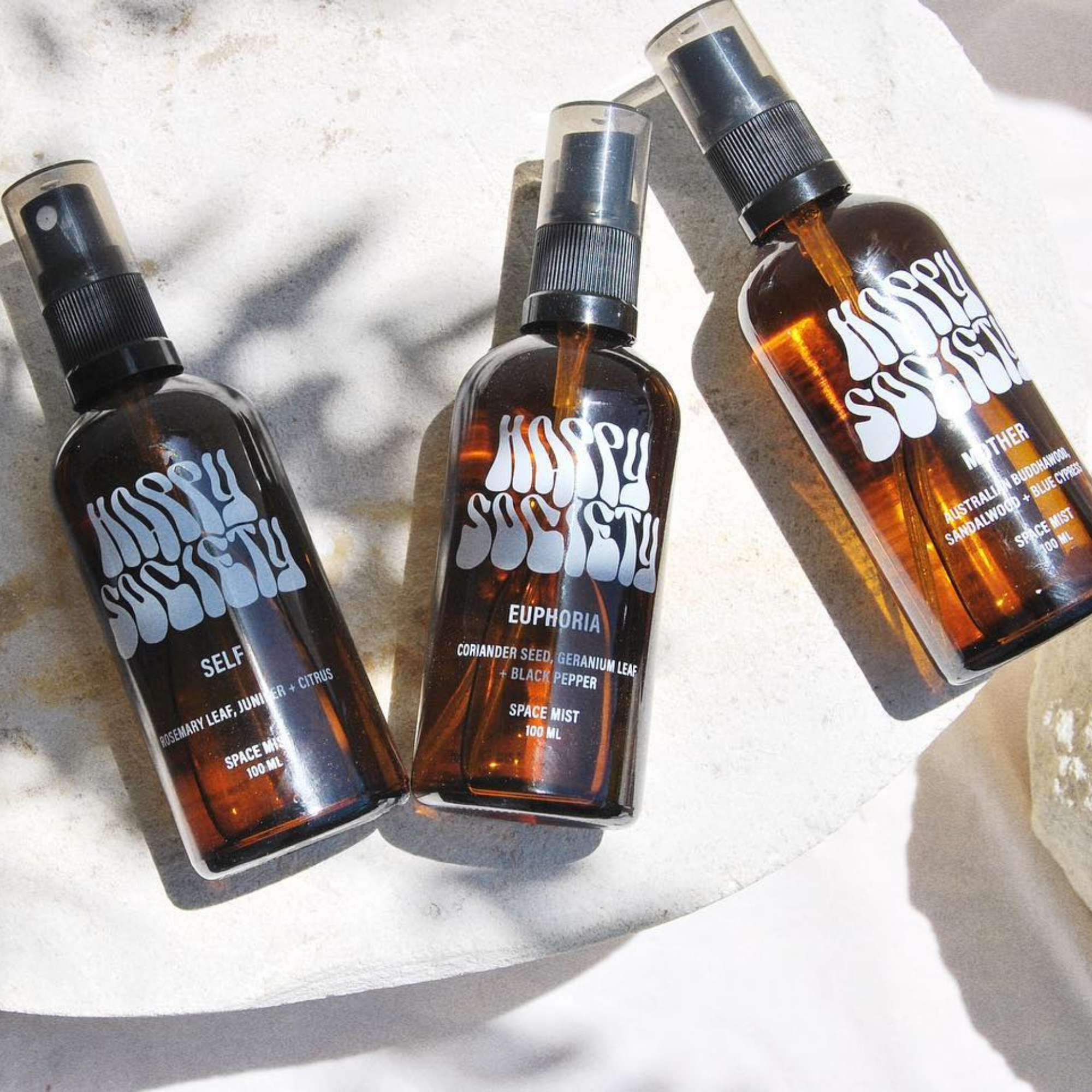 Defined: Candle Scents & Space Mists to Set A Mood
The power of scent is incredible. Its unique link in our minds to memory, nostalgia and feeling makes smell a complete sensory experience. Surrounding odours are processed in our frontal cortex that send information to other areas in our bodies; scents take a direct route to the limbic system that is closely related to our ability to feel emotions and remember.
Channelling and securing your favourite scents is a true pleasure; having pockets of aroma that feel like home, remind us of a loved one or give us the chance to unwind. Utilising scents in your space to enhance your mood is a powerful tool; here is a mixture from our collection that are suitable for all different moments and environments.
The Orchard St Earth Candle helps to connect you with a space, aiding you to slow down and get grounded. Made with pure essential oils like cedarwood, rosemary and patchouli, this woody and spicy fragrance is representative of the earthly elements, reminding us to get in touch with our inner sense of mother nature. This large candle is a beautiful piece to have in your home, to light when you put your feet up at the end of the day, whilst you are running a bath or settling into a good book. Its gentle aromas are a comforting reminder of safety and calm within your personal, private surroundings. If you struggle with decompressing before bed, the Happy Society Lune Mist is a handy spray to keep in your bedroom to create a healthy atmosphere for a good night's sleep. Spray onto your pillow for a mist of lavender and sage that help our minds and bodies to settle and relieve any nocturnal anxieties.
For a rejuvenating scent that you can take with you and use anywhere, the
Happy Society Vetiver Space Mist
is a bottle of energising serenity. Vetiver is a plant that has been used for centuries due to its medicinal and holistic properties; it helps to subside over-functioning nervous systems and combat mental fatigue. It has a rich, exotic aroma with antioxidant qualities that act as a blocker against free radicals that disrupt our body's natural processes. Spray onto your yoga mat or before you get into a state of meditation, this is a refreshing and reassuring aroma to aid you in keeping focused.
When going about your daily life, managing chores and setting up your home through a deep clean or an overdue clear-out, it is lovely to take a breath and enjoy a sense of achievement and joy, even from the small things. The Happy Society Euphoria Space Mist is a pleasant and uplifting fragrance with a blend of black pepper, geranium leaf and coriander seed that leave subtle citrus and floral notes to a space. These enable a chance to recharge, giving a sense of new beginnings and cleanliness. Spritz onto your linen, furniture and cushions for an inspiring and happy aroma in your home.
It is natural to have missing moments, whether of a place or a person; rounding back to the feeling of a presence or space can help alleviate rawer emotions, and scent can play a significant part in this process. Maison Louis Marie has created individual scents based on the idea that fragrance can transport us to a specific location and time. The Maison Louis Marie No.6 Neige de Printemps Candle is all about the aroma of family, spending time with our nearest and dearest and making magical memories along the way that you can tap into later. This candle is made with blood orange, mandarin and a touch of sugar; this fragrance represents the memory of Maries Grandmother, Tita and the spring holidays spent together. You can keep a souvenir of time through unique scents whenever you need a little prompt back to a familiar feeling.
"
Let the scent take you higher...

"