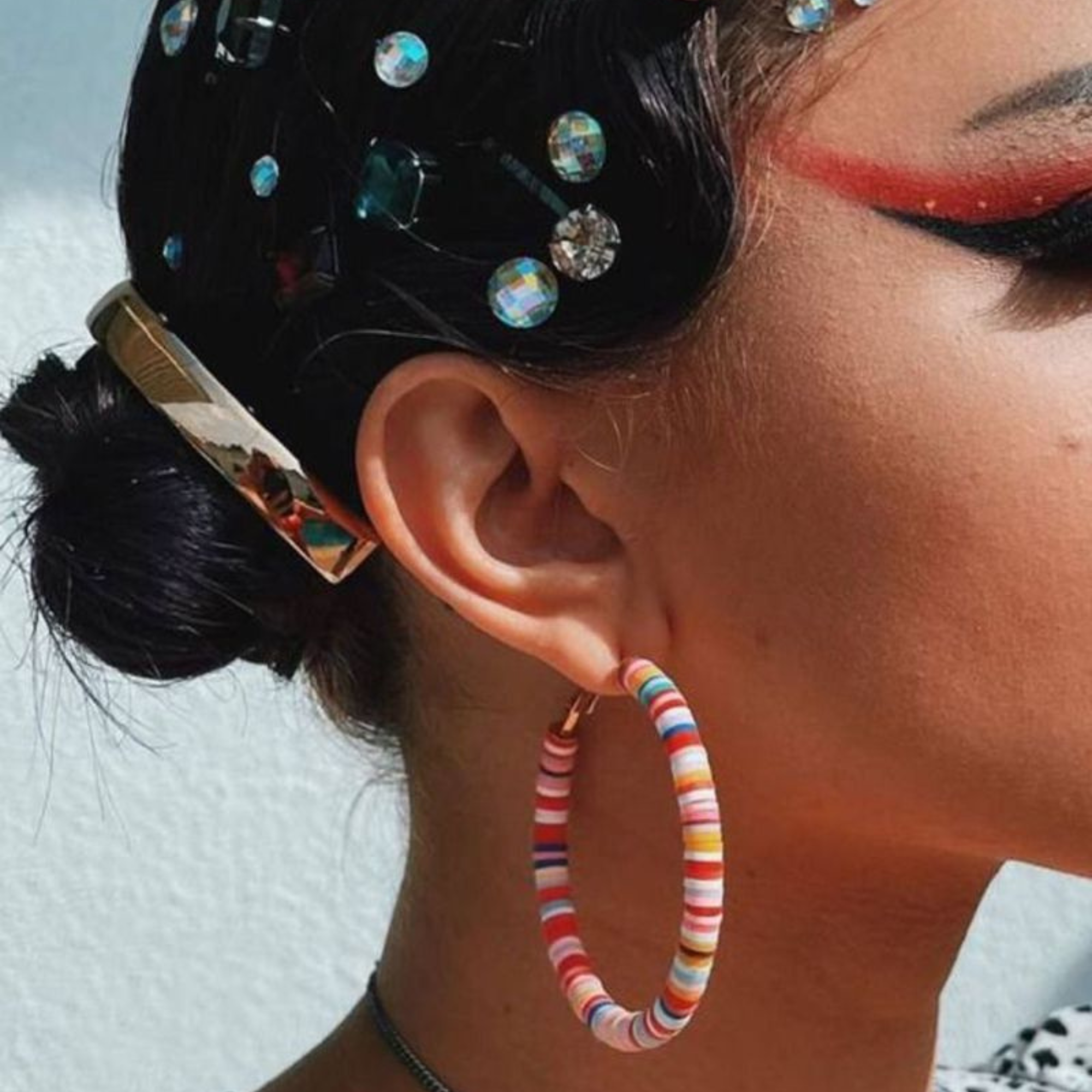 Festival Hairstyles To Try On This Season
Festival season is the chance to go a little (or a lot) extra with your hair; whether you are planning on being slicked back at Splendour or sporting Burning Man space buns, there is no limit to the looks you can have fun with. Get creative with colour, accessories and extensions so you can unleash your alter ego through some glamorous tresses...
If the weather report isn't looking so hot, a slicked-back style will keep fresh, rain, hail or shine. A tight low bun (very Hailey Beiber) can be easily achieved with a soft round brush and some flexible elastics; sweep the hair back bit by bit and mist with a setting spray for some subtle moisture, or use gel to create the full wet finish. You can also carry out this look with 90's inspired space buns; follow the same method but use the fine tip of a rattail comb to create a perfect parting down the centre. Pack a small comb with you to tame any unwanted flyaways, or some cute little clips will also do the trick.
We will never tire of mermaid waves; that fresh from the salty beach look is timeless and only gets better over the festival period. Creating this style at home is straightforward, with just a few simple steps. Wash your hair the night before, and make sure you give it a thorough cleanse and condition.
The Grown Alchemist Shampoo and Conditioner are the perfect combo for keeping your hair clean without stripping it of its natural oils; the chamomile and lavender extract will leave it smelling fresh with a long-lasting healthy shine. If you have naturally straight hair, let it air dry before sectioning it into loose braids overnight; if your hair is on the curlier end of the spectrum, blow drying it first will reduce frizz and give you more defined waves. In the morning, take out your plaits and use a wide tooth comb to tease out any knots or kinks; this will give you a nice natural finish. If you are after something a little more, use a hot curling wand or iron to twist each section for a tighter ringlet. Stick to the three-second rule when using hot tools to minimise any damage; it is also worth investing in protection oil. To maintain your waves, a salt spray will keep them fresh and light; the Fat And The Moon Spirit & Salt Mist will lock in moisture and add some tropical-smelling texture.
Post festival, we all look forward to a little pamper, removing our makeup and the layers of mud on our gum boots! Don't forget to show your hair a little love, too, as keeping it styled for a few days will leave it dry and tired. The
Mahlia Moisture & Repair Watermelon Mask
will be a welcome source of nourishment for your locks. This thick and creamy formula will treat split ends, gently help detangle any knots (or festival dreads) and leave you with silky soft hair. Apply to damp, freshly washed hair and leave on for as long as you need, opt for a minimum of 10 minutes to get the most out of its repairing qualities. These are some tried and tested styles and products that will see you through a wild and wonderful weekend.
"
Let your hair down this festival season!

"