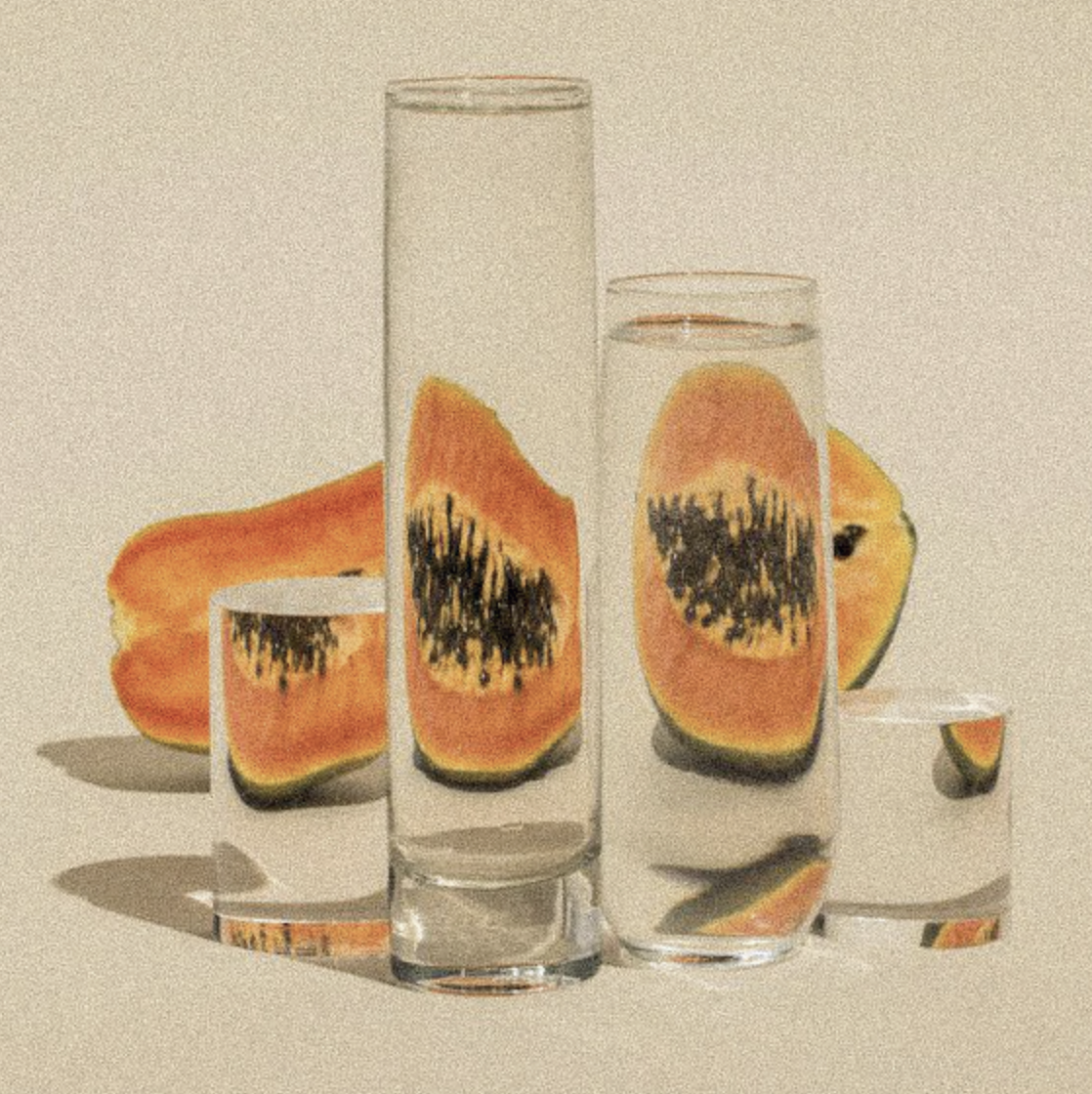 Glow from Within
SUPERFOODS FOR GLOWING SKIN
You know that old axiom "beauty starts from within"? Well, in the case of your skin it's 100% true! What we eat has a direct effect on our skin and eating a healthy diet full of good fats, antioxidants, vitamin C, collagen, and amino acids can mean the difference between a fresh, glowing complexion and a tired, puffy, wrinkled one. Here are six superfoods packed with nutrients that directly benefit your skin.
AVOCADOS
Avocados are famously great for skin; high in poly- and monounsaturated fatty acids (like omega 9's), they keep skin looking firm and dewy, help regenerate damaged skin cells, and reduce redness and irritation. The omega 9's, in particular, keep your epidural layer (the top layer of skin) moisturized, which gives you noticeably hydrated and healthy-looking skin. Avocados are also full of antioxidant carotenoids that not only fight free radicals, which are one of the major culprits of damaged skin and ageing, but also help your skin maintain water content and elasticity.
PAPAYA
Papaya is a miracle ingredient that can clear out the scars and uneven pigmentation on the skin. The skin lightening properties of the fruit help in getting rid of blemishes and pigmentation. The enzyme papain in papaya acts as a strong skin exfoliator and removes the dead cells, which can make the face lighter in tone and more supple. In addition, the abundance of beta-carotene and plant compounds present in papaya enhances the skin glow and complexion.
BLUEBERRIES
Antioxidants are one of the most important factors in maintaining beautiful skin, and eating blueberries is one of the easiest ways to get them. Antioxidants help fight and neutralize free radicals (one of skin's worst enemies), which are known to damage skin cells and collagen, causing wrinkles, dry skin, and a host of other ageing skin factors. Blueberries are also full of vitamin A, which helps normalize oil levels in your skin, and is very helpful in naturally clearing up acne-prone skin.
LEMONS
Lemon is incredible for skin, not only because it's packed with vitamin C, which helps neutralize free radicals and helps us make collagen and elastin (which bind skin cells together, giving us firm, younger-looking skin), but it's also one of the most alkalizing foods available. Although lemons taste incredibly acidic, once metabolized, the minerals in them help alkalize the blood and balance our bodies' pH (which in most bodies is too acidic due to over consumption of things like coffee, alcohol, and processed foods). When our bodies' pH levels are out of whack, our skin becomes super sensitive, dry and irritation-prone, so maintaining a good balance is key.
ORANGES
Eating one orange a day or drinking a delicious tangy glass of fresh squeezed orange juice may aid weight loss, boost your immune system, and produce healthier skin. Oranges are rich in calcium, fibre and vitamin C and are low in calories, so they really are a wonderful start to your day.
Oranges are a vibrant and refreshing fruit rich in natural oils and vitamins. They have been used for years as ingredients in recipes, but recently they are being recognised for their beauty enhancing qualities. The benefits of orange for your skin are extensive, making it perfect to use in every aspect of our daily beauty regimes, as the natural properties may improve the look and feel of our skin. There is no need to throw away the orange peel either, it's perfect for creating face masks and body scrubs, drawing out all the impurities leaving a beautiful healthy glow.
There are many benefits of Orange for skin and here are reasons to embrace summer's fab orange beauty trend.
Natural oils in Oranges help to moisturise skin, providing softer healthier looking skin for longer. Antioxidants found in Oranges fight free radicals which may slow down the production of wrinkles, and stop premature aging. Oranges have a high content of citric acid which aids in skin exfoliation and helps to dry out acne, improving the overall look of your skin.
Orange peel has a higher content of Vitamin C than the orange itself, so grind orange peel and use as a body scrub in your daily beauty regime for a healthy looking glow.
Vitamin C helps the body to form collagen and elastin which will keep your skin looking younger and more supple. Oranges could also prevent skin sagging, and may improve firmness.
KIWI FRUIT
Vitamin C contributes to the production ofcollagen, a key component in cells and organs throughout the body, including the skin. The vitamin also boosts the body's ability to heal wounds.
A 2019 review of studies found that taking oral collagen supplements may help boost skin elasticity and hydration and reduce wrinkles. Taking supplements is not the same as consuming vitamin C in kiwis, but eating the fruit may still help keep the skin healthy.
One kiwi weighing 69 grams provides 64 milligrams (mg) of vitamin C. This represents 71–85% of an adult's daily vitamin C.
Kiwifruit also provides vitamin E, or tocopherol. The antioxidant properties of vitamin E and its ability to help protect the skin from sun damage may help prevent skin disorders.
MANGO
Mango is loaded with a type of antioxidant called mangiferin that may help protect your body from cellular damage. It's also a great source of the following vitamins, which all act as antioxidants in your body: vitamin E, vitamin A, vitamin C.
Mango is rich in vitamin. Collagen is the most common protein in your skin and gives your skin its structure.
TURMERIC
Turmeric is great for skin due to its incredible anti-inflammatory properties. Inflammation in the body is really rough on skin, leading to wrinkles and aging in the long term and making skin look puffy and tired in the short term. Eating or drinking dried or fresh turmeric helps fight inflammation, keeping skin looking fresher and younger, while also helping relieve more serious inflammatory skin problems such as eczema and rosacea.