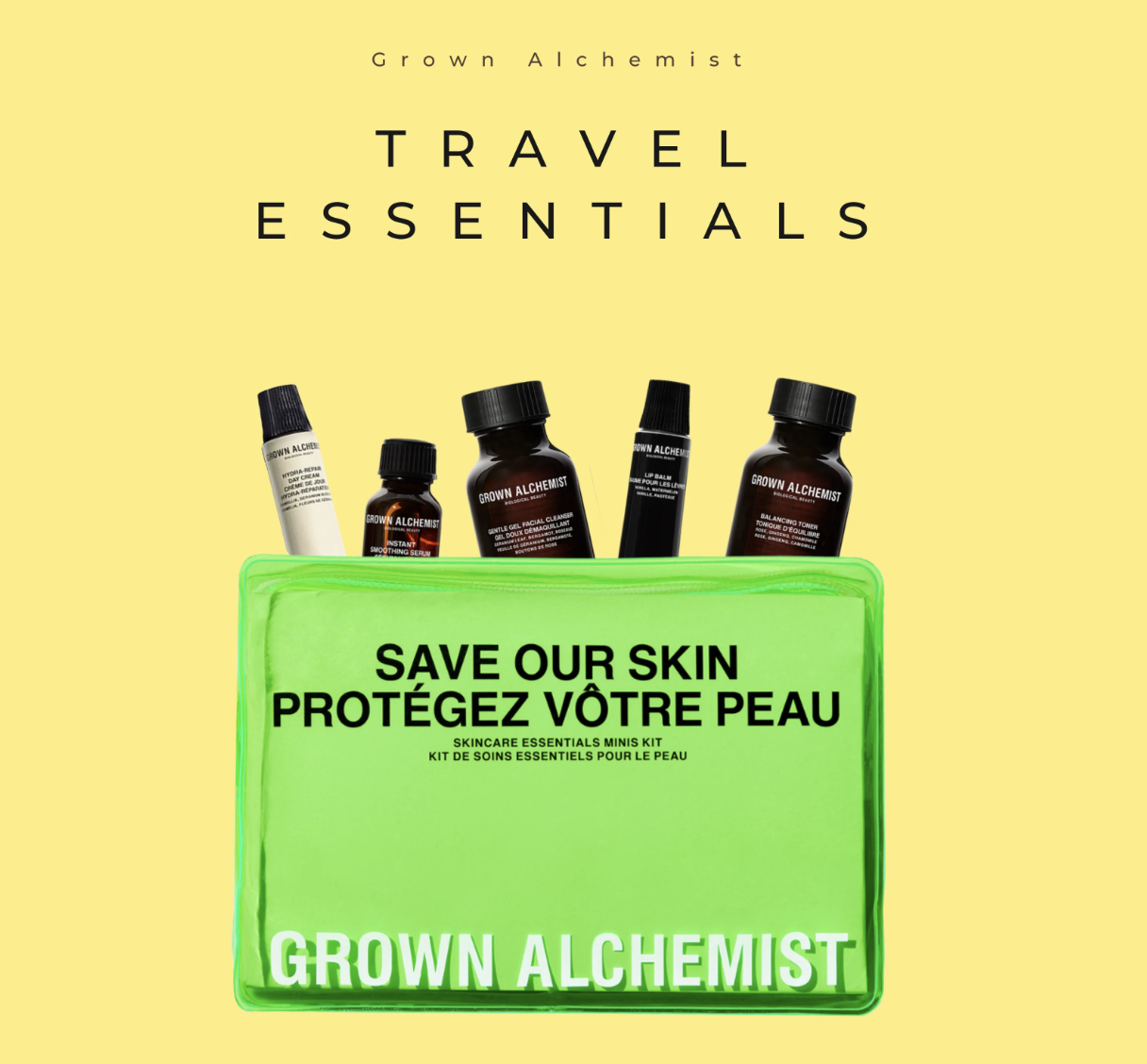 Grown Alchemist Travel Essentials
When packing for your next trip, whether it's a weekend getaway or prepping for your first long haul flight in two years, finding the balance between enough and too much is critical when getting your essentials together. We all want to maintain our regular skin routine without hauling the entire bathroom contents with us; luckily, Grown Alchemist has some clever compact travel picks that will have you glowing no matter where you are.
Regardless of the time of year, or climate, you're in; sunscreen is simply a must.
The Grown Alchemist Hydrating Sunscreen is SPF 30, making it a great everyday layer of protection with its broad-spectrum properties of zinc oxide that cover both UVA and UVA rays. This sunscreen has a silky consistency, blending seamlessly into your skin and leaving no streaks or stickiness behind. It also retains your skin's natural moisture barrier with hyaluronan molecules and rosehip oil for extra radiance.
With its cute, yellow packaging and convenient size, it's the perfect product for all adventures!
If you're packing minimally for your trip, the Holiday kits are a key addition to your suitcase. The Hydra + Body Kit is filled with moisturising goodness, including a decadent hand and body cream - a seriously divine duo! Both are infused with natural ingredients such as orange peel, vanilla and rosemary leaf, keeping your skin supple and soft along the way! Pair with the Hydra Hand Sanitiser for that extra hygiene protection on your journey, infused with Sweet Almond and Coconut Oil to balance out the ethyl alcohol that effectively removes bacteria and germs. And it even fits perfectly in your pocket! Score!
For a perfect pint-sized pack of Grown Alchemist goodies on your next adventure, we suggest the Save Our Skin collection, consisting of five essentials that will make up an entire skin regime. It's always reassuring to know that you are packing products in your bag that you know will provide day in and day out, and these core favourites will never disappoint! You can set sail this year with the confidence that you can rely on these mini-sized marvels, with the bundle including their signature gentle face cleanser, balancing toner, smoothing serum, hydra-repair day cream, and luscious lip balm.
And coming in a fun fluoro wash bag that screams vacation, what better way to say bon voyage!?
"
Get ready for your next adventure now!

"
Grown Alchemist
Through the understanding of cellular renewal and nutrient metabolisation, Grown Alchemist formulates products which represent a new evolution in skincare.