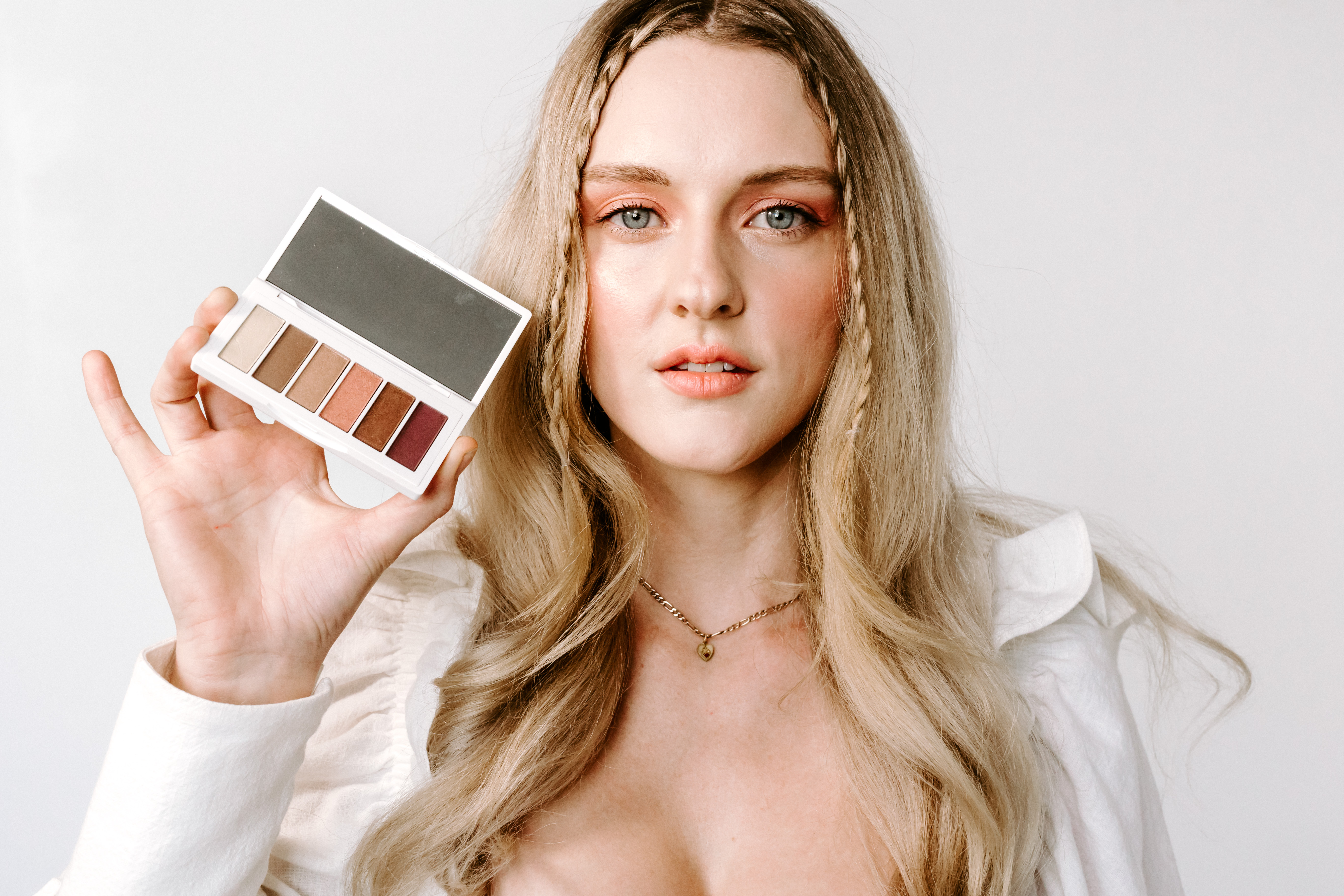 How To Create A Valentine's Day Makeup Look
Need a little glam for a night to remember? Make this Valentine's Day one to never forget with the perfect sultry makeup look, even if you're a happily single gal. The right makeup is all about looking flawless through eating, drinking, and a little smooching. You don't need to be a professional makeup artist to achieve beautiful evening makeup, all you need are a few application techniques and the right products to paint your face seamlessly.
Whether it's a hot date or a night out with your besties, getting dolled up calls for some sparkle on the eyes, perfectly pouty lips, and everything in between. With our top 10 tips and tricks, you can easily nail down your makeup look to make your special Valentine's heart flutter.
Primed and Flawless
For your makeup to last throughout the night calls for the perfect primer. Make sure your skin is prepped before applying any foundation with a primer that suits your skin type and texture. This will allow your makeup to stay in place no matter how long you'll be out on the town.
If your skin tends to get a little shiny throughout the evening, using a matt primer to blur and smooth any imperfections and keep any oils at bay from breaking up your foundation. Now if you're on the drier side, using a hydrating primer will add some moisture back into your skin. Make sure to apply your primer evenly on your face, under the eyes, and neck by massaging it in to absorb fully into the skin.
Conceal Imperfections
If you're a night owl with a few under eye bags, using a concealer to cancel out any darkness will brighten and lift your under eyes. With a full-coverage creamy concealer, apply a few dots underneath your eyes and blend it upwards towards the darkest area with your damp makeup sponge. Start with a little and apply more if extra coverage is needed. Don't forget to apply concealer on any blemishes and breakouts for an even complexion and gently blend it in.
Ethereal Glowy Skin
Now that all of your trouble spots are corrected, it's time for foundation. For a date night makeup look, you want to take extra time on your skin. The key here is to make your skin look as natural as possible. You don't want to look too cakey and matte with your complexion. Go for a foundation that has medium coverage that looks like skin and mix in a few drops of your favourite liquid illuminator for a beautiful glow to your skin.
Blend in your foundation with a damp beauty sponge by tapping and pushing the product into your skin. Finish off your base with a lightweight setting powder to keep your foundation from budging.
QUICK TIP: DON'T SMEAR ON THE FOUNDATION WITH YOUR SPONGE, THIS WILL LEAVE BEHIND STREAKS. INSTEAD, USE A TAP-TAP MOTION AND LET THE SPONGE DO THE WORK!
Bronzed Goddess
If you truly love to look bronzed and naturally tanned, pull out your favourite bronzer and lightly dust on the top of your temples and cheekbones. Using a fluffy angled powder brush, sweep your bronzer slightly under your cheekbones, right below your blush for a seamless blend. For an evening look, a natural bronzer that's not too orange will give you that sun-kissed glow. If you're wearing a low-cut dress, brush a little on your décolletage to accentuate your collarbone.
Pop of Color and Shimmer
Now that your complexion is perfected, it's time to add some colour to your skin. A pop of blush is your secret weapon to instantly liven up your face for your Valentine. Apply a rosy pink or peachy tone blush on the apples of your cheeks using a fluffy powder brush. This will give the look of a natural flush of colour on your cheeks and instantly perk up your face as you laugh and smile the night away.
Top off your blush with your favourite champagne highlighter on the high points of your cheeks, inner corner of the eyes, and brow bone using a fluffy tapered brush. For a more intense glow, spritz your favourite setting spray before applying your highlighter for a brighter finish.
Neutral Sultry Eyes
The right way to set the tone for the night is in the eyes. There's nothing better than making eye contact with your date and letting your eyes do the talking. Start with priming your eyelids for a clean canvas for your eyeshadow. Using a fluffy eyeshadow blending brush, take a mid-tone brown matte eyeshadow and blend it into your natural crease. If your eye shape is small, use a tapered precision brush that's not too big. Add a shimmery pearl shade on your immediate eyelid area using a flat eyeshadow brush to press it on your lid. Finish off with a brown pencil eyeliner on your top and lower lash line.
Glitter Cut Crease
A night out on Valentine's Day is the perfect excuse to pull out your favourite glitter. To amp up your neutral eye look, a pop of glitter will add more dimension to your otherwise safe makeup look. Depending on your eye shape, a glitter cut crease can be achieved easily just by using a glitter eyeliner. Start by mapping out where you want the glitter liner to be placed, for your cut crease apply it directly under the natural crease of your eyelid making sure when you open your eyes the glitter liner is visible.
Flirty Eyelashes
There is nothing more sultry than a fluffy pair of false eyelashes to open up your eyes. False eyelashes will instantly lift and add volume to your natural lashes. Go for a pair of wispy eyelashes that are tapered from the edges for a more dramatic look. To apply your false eyelashes, apply a thin strip of lash adhesive on the lash band and wait 20-30 seconds before applying it to your lashline.
QUICK TIP: IF YOU'RE HAVING TROUBLE APPLYING FALSE EYELASHES, PLACE YOUR MIRROR SLIGHTLY TILTED UNDER YOUR CHIN AS YOU LOOK DOWN PLACE THE EYELASH FIRMLY ON YOUR LASHLINE USING TWEEZERS TO ADHERE IT IN PLACE.
Red Ombre Pout
Last but certainly not least, seal the night with kiss-proof lipstick. A beautiful way to make your lips look defined and fuller is to use a lip liner that's 2 shades darker than your lipstick for an ombre look. The trick is to outline your bare lips using your lip liner and blend the colour inside the edges of your lips using a precision lip brush or your ring finger. After you've blended the darker lip line, finish off by applying a long-wearing liquid lipstick in your favourite tone of red. Before it dries down, blend the lip colour into your deeper lip liner. You might need to go over the lip colour again with your lip liner for a true ombre effect.
QUICK TIP: KEEP YOUR LIPS LOOKING CRISP BY CLEANING UP THE EDGES WITH YOUR CONCEALER A FLAT PRECISION BRUSH.
Cutesy Nail Art
It's time to add a special touch to your special date night look, bring out your favourite classic red nail polish along with a few toothpicks and a white or light pink nail polish. Start by filing and prepping nails for polish by making sure you've trimmed any hangnails and filed any rough edges. Apply your base coat and favourite red nail polish on every nail except for your ring finger where you'll use bright white nail polish. For some lovey-dovey hearts, dip your toothpick into your contrasting nail polish whether white or pink, and form a V shape or 3 small dots to create a heart design.
Now you're finally ready to paint the town red with your ultra glamorous makeup look and perfectly polished nails! Anyone who looks over you will be utterly intoxicated with your suave Valentine's Day look and you can glamour the night away!
"
The right makeup is all about looking flawless through eating, drinking, and a little smooching.

"
Loyal Crush Make Up Collection
Discover your own personal favourite in cruelty free make up brands with our unique selection that includes Ere Perez, SCOUT Cosmetics, RCMA and Zuii Organics. Find a combination that is uniquely you and feel the difference on your skin using natural makeup charged up with the special powers of superfood ingredients.