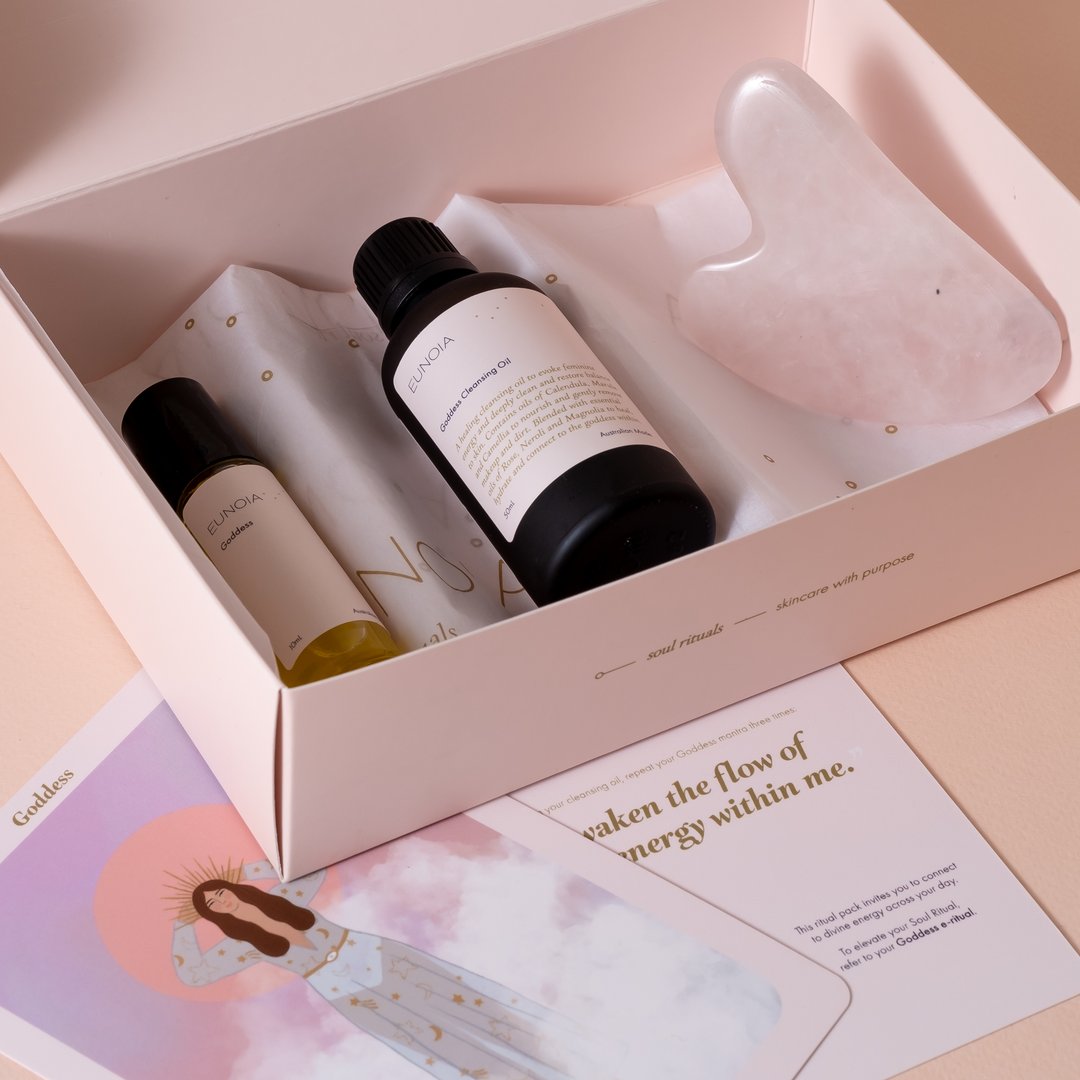 Journey with Eunoia
It's all about the journey. Becoming a mother is one of the most unique voyages one can go on. It is a path of change, adaptation and understanding. Our bodies become incredible vessels of life and this continues as a giver and fierce protector forever. Eunoia creates beautiful packs that fit with the many moments that come with this transformation and brave expedition into motherhood.
For the mamas to be - or those with newborns - the Mama Journey Pack is essential. It promotes the practice of ritual amongst chaos and brand new schedules, and is designed to keep you grounded; allowing you to connect with your body and simply slow down a little.
The belly and body oil is specially designed to restore your skin's natural elasticity. When used liberally, both during pregnancy and post-birth, it helps to soothe stretch marks and maintain hydration. Extend the journey by applying the mama perfume oil to your wrists, back of neck and decolletage for a calming scent of jojoba, grapefruit and lemon to settle the busy mind. And allow the rose quartz crystal to invoke self-compassion and support the health of your female reproductive system. Hold tightly whilst reading your oracle cards and inhibit the gorgeous goddess that you are.
The Goddess Soul Rituals Pack is for the women warriors out there. Immerse yourself in Australian botanical oils, fragonia, pink lotus and copaiba with the roll-on perfume. Keep it handy in your handbag for a little perk up at any point in the day.
Pair back with the Goddess Cleansing Oil that's filled with natural ingredients to appease sensitivities, redness or the effects of everyday stresses. Then allow the Rose Quartz Gua Sha to take centre stage when applying your oils and cleansers, to deeply massage them into your skin and boost circulation. Incorporating a Gua Sha into your daily routine has proven to promise long term benefits by eliminating puffiness and fluid build-up. In conjunction with the Eunoia signature oracle cards, it's a sensation.
Mothers, sisters and friends are all an abundance of love. We are unconditional providers, but recharging is key to maintaining connection. The Eunoia Self Love Journey Pack is for those moments to indulge in you. Self-love is as important as the affection we share with others. This journey pack provides solace and kindness. The Love Face Cream is packed with superfood ingredients to awaken your female energy, brighten your appearance and nurture your skin from the inside out. The Rose Quartz stone is the home to healing and love and is a beautiful addition to your routine. Grasp with both hands and harness the positive energy that you hold. Packed with an oracle card of guidance as a gentle reminder to stick to these practices and to remain gentle with yourself.
"
It's all about the journey with Eunoia gift packs. Find your own ritual and enjoy self care.

"
Browse the Eunoia Range
Eunoia turns skincare routines into a sacred ritual infusing your morning skincare application with affirmations, self love, crystal healing and mindfulness. Aimed at nourishing your soul, as well as your skin, Eunoia translates as 'beautiful thinking'.