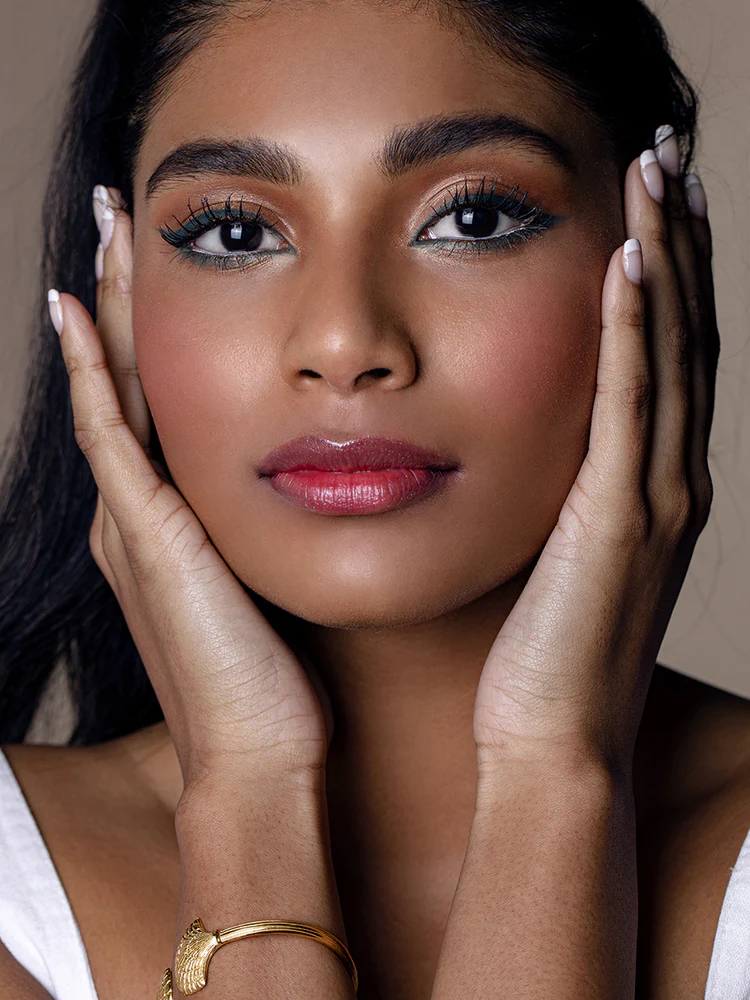 Makeup Ideas for Christmas Brunch
Christmas Day is an opportunity to let your hair down and relish in the company of your nearest and dearest. Planning your festive looks is part of the fun; whether you are going full glam or adding a subtle merriment to your everyday glow, Christmas brunch is the perfect opportunity to sprinkle some glitter and get the party started! We have rounded up some colourful and classic ideas to get you inspired for a jolly good time.
You can't go wrong with a gorgeous green; think mysterious mistletoe with the Pine Liner look. Trade out your go-to black and swap it for the Goddess Pencil in Emerald Tubula from Eye of Horus. This intensely pigmented eyeliner is a cute nod to Christmas and gives your look a little edge. Create a subtle wing with this creamy, easy-to-apply formula that guarantees no smudges (well, no unintentional ones), as the smudging tool at the bottom of the pencil is designed to help make a beautiful blend across your lids for your desired look. This is a chic and simple way to level up your beautiful brunchtime makeup.
Nothing says hello holidays more than some bold burgundy lips. We love the darkness of the Axiology Lipstick in Elusive, a timeless hue that signifies celebration. It is reminiscent of a rich red wine with a beautiful, semi-matte finish. The nourishing vegan formula means no cracked coverage, only the most kissable lips this season. For a more intense colour, apply several coats or go for a subtle glaze with just one. If you are after a lighter lip, perhaps to match heavier eye makeup, the Axiology Balmie Crayon in Champagne is always a winner, an application of this and say hello to sweet golden sparkles galore. The versatile balmies are fabulous; this creamy stick can be used as a highlighter, eye shadow, and luscious lipstick. Create a seamless glossy finish with the Ere Perez Mango Lip Honey in Chili for a bit of extra spice to your kissable lips.
It isn't really party season without some serious glitter, and the dazzling range from A Beautiful Weirdo will keep you shining way past New Year. The eco-friendly glitter is made from organic eucalyptus as well as being biodegradable so that you can boogie on down with a clear conscious.
The Pure Aloe Application Gel makes it really straightforward to put on, so there is no fussing with yucky glues or chemicals. The glitter naturally sticks to the gel and can be used all over the body and hair; feel free to go wild! The Disco Doll Pink adds a lively touch to any look - sprinkle a little or a lot for a truly twinkling Christmas. If you prefer a subtle sparkly lid, the Flavedo Albedo Velvet Eyeshadow in Rose Quartz gives a sultry shimmer fit for all the festivities coming your way. The light-catching shadow gives a magical metallic finish; gently sweep across your eyelids and dab a little underneath your bottom lashes for a more dramatic effect.
We would also never turn down a seasonal smoky eye, a soft grunge, if you will. This can be achieved with the Ere Perez Chamomile Palette in Beautiful, sweet-sounding, but these complimentary natural shades can be blended to create a strong, defining look, from a pretty puff of smog to a full-blown flame. Pair with the Lashfood Ultra Rich Volumizing Mascara to maximise your lashes whilst keeping them healthy and fantastically full. Finish your look by levelling up your golden summer skin with the Eye of Horus Complexion Duo Luminate. This delightful duet offers a radiant bronze and illuminating blush made from ethically sourced ingredients to enhance your natural tones.
We wish you a Very Merry Christmas from us all at Loyal Crush!
"
Christmas brunch is the perfect opportunity to sprinkle some glitter and get the party started!

"
Add Sparkle with A Beautiful Weirdo