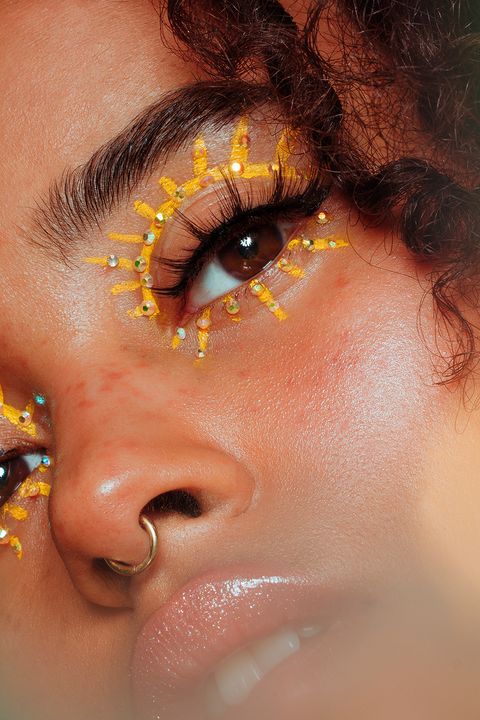 Makeup Tips For The Ultimate Festival Look
Festivals are vibrant, lively events where self-expression and creativity take centre stage. What better way to embrace the festive spirit than by adorning yourself with dazzling makeup? If you're attending a music festival, the right makeup can elevate your look and reflect the energetic atmosphere around you. In this blog post, we'll guide you through the world of festival makeup, sharing tips and inspiration to help you create a stunning and unique makeup look that will turn heads.
Embrace Bold and Vivid Colours
Festivals are the perfect opportunity to experiment with bold and vibrant colours that match the lively atmosphere. Opt for bright shades such as electric blues, neon pinks, and vibrant purples to make a statement. Consider using pigmented eyeshadows, colourful eyeliners, or even face and body paints to add pops of colour that reflect your individual style and the festival's vibrant ambiance.
The Barbie look lets you 'think pink'. Read more on our journal.
Glitter and Shimmer Galore
Amp up the sparkle factor by incorporating glitter and shimmer into your festival makeup. Experiment with glitter eyeshadows, sparkly highlighters, or even glitter face and body gels. Apply them to your eyelids, cheekbones, collarbones, or anywhere you want to catch the light and create an enchanting effect. Just remember to choose biodegradable glitter to minimise environmental impact.
Find your sparkle with eco glitter brand A Beautiful Weirdo
Playful Face and Body Art
Festivals are a playground for creativity, so why not indulge in some face and body art? Use face paints, temporary tattoos, or intricate designs created with makeup brushes to add unique patterns, symbols, or floral accents. Unleash your inner artist and transform yourself into a walking masterpiece that captures the festival's artistic essence. Find some inspiration online - there are lots of videos on YouTube showing application techniques.
Durable and Long-Lasting Products Festival days can be long and energetic, so it's important to use makeup products that can withstand the festivities. Opt for long-lasting, waterproof, and smudge-proof formulas to ensure your makeup stays intact throughout the day. Consider using setting sprays to help your makeup withstand sweat, dancing, and any unexpected weather conditions.
Statement Lips Complete your festival look with a bold lip colour that demands attention. Opt for vibrant shades like fiery reds, electric oranges, or deep purples. Matte liquid lipsticks or long-wearing lip stains are great options for long-lasting colour that won't require frequent touch-ups. Don't be afraid to experiment and find the lip shade that perfectly complements your overall festival makeup.
Sun Protection Outdoor festivals often mean prolonged exposure to the sun. Protect your skin by incorporating SPF products into your festival makeup routine. Look for lightweight, oil-free sunscreens or choose foundations and BB creams with built-in sun protection. Don't forget to shield your eyes with sunglasses and wear a wide-brimmed hat to keep your face shaded.
Standard Procedure is your best protection from festival sun. Festival season is the ideal time to unleash your creativity and express yourself through makeup. With bold colours, shimmering glitter, playful face and body art, and statement lips, you can create a captivating festival look that showcases your individuality and embraces the festive spirit. Just remember to choose durable and long-lasting products, prioritise sun protection, and, most importantly, have fun!
"
Festival season is the ideal time to unleash your creativity and express yourself through makeup.

"
Glitter Bomb
Cover yourself in glitter this festival season