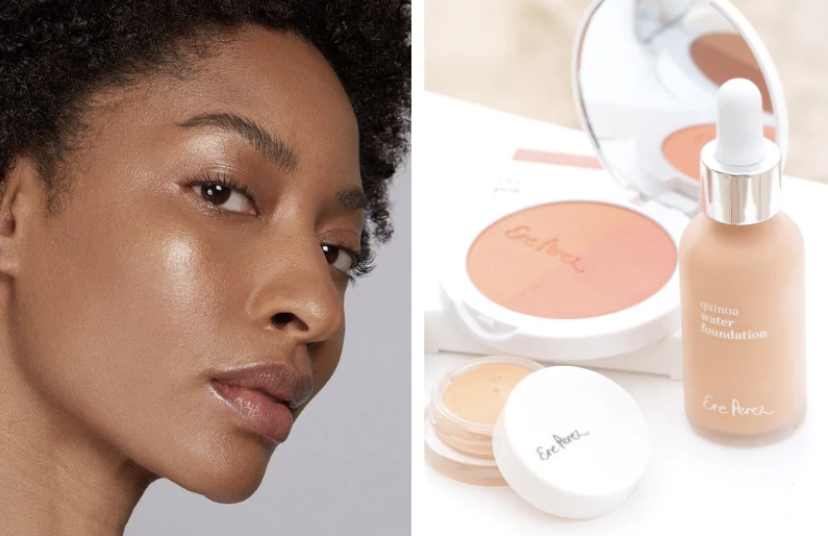 Must-Have Cruelty-Free Makeup Brands In Australia
Have you been considering the switch to cruelty free? Some brands you're using may be testing their products on animals and we think it's time to make the change permanently to animal-loving products.
The thing we love about cruelty free brands is they often think about what's in every component of their products. They aim to use organic and natural ingredients that are toxin-free and we're seeing an even greater movement toward biodegradable and recyclable packaging. Bring it on!
You'd be surprised by the number of your favourite brands who are still testing on animals so we recommend taking a look at the labels or doing a quick search on what their practices are. But, just to get you started, we've dropped in some of our faves below!
Axiology
If you love a pouty lip, Axiology has curated a line of ethical, sustainable, clean, cruelty-free and vegan lip products with just 10 ingredients. With simpler ingredients, your lips will be deeply conditioned using elements such as organic avocado oil, avocado butter, and castor seed oil. The lipsticks, Balmies, and crayons are formulated with mineral pigments to offer long-lasting colour and hydrating ingredients to keep lips soft and supple.
Infused with antioxidants and pure vitamins Axiology will keep moisture locked in for better nourishment. Packaged in eco-friendly, biodegradable material, these innovative lip tubes look cute, wear well and also have a positive impact on our environment.
Ere Perez
A brand that uses the power of plants to enhance your makeup routine, Ere Perez offers a range of formulas that are curated with ethically sourced ingredients that are good enough to eat! As a clean beauty brand with a background of Hispanic heritage, simplicity is key in their unique high-performing natural healing formulas. Each vegan product is derived from Australian native botanicals and plants that are gentle on your skin with their non-GMO formulas.
From their Avocado Waterproof Mascara to Beetroot Cheek And Lip Tint, you can create a full complexion makeup look from start to finish. Along with cosmetics, the range offers beautifully crafted eco-friendly makeup brushes, these tools are a must-have for any powder or cream makeup application with vegan bristles and a biodegradable corn resin handle.
Scout Cosmetics
Backed by science and innovation, Scout Cosmetics is proud to be a high-quality Australian-made brand with vegan and 100% cruelty-free products. The makeup line consists of toxic-free natural products using non-animal-derived ingredients. If you're looking for innovative and minimal cosmetics, the brand offers skincare solutions, breathable nail polish, and mineral makeup.
Through their promise to develop Certified Organic, sustainably sourced vegan and cruelty-free products, this is a brand that genuinely cares about your skin and our planet. Each product from their crème compact foundation to their bronzers, blushes, and lipsticks is carefully made with earth-loving ingredients with zero synthetic, toxic fillers or chemical additives to harm your skin.
Shanghai Suzy
If your lipstick dries out your lips, the beautiful range of lip formulas from Shanghai Suzy are created using vegan, cruelty-free ingredients, that nourish and hydrate dry lips. The Melbourne-based company delivers high-quality pigments, seasonal colours, formulas, and packaging for an affordable lipstick. With some of the most common animal-based ingredients for lip products causing allergies and skin irritation, the brand specialises in natural formulas with rich pigments.
From their Whipped Matte Lipsticks to Satin Luxe Lipsticks, each product is developed using ethical and sustainable ingredients for a lightweight yet pigmented formula. Each lip product is infused with shea butter extract and jojoba seed oil to nourish and soften your lips.
Zuii Organic
A brand with a mission to create a greener beauty routine, Zuii Organic offers the purest organic and cruelty-free line of cosmetics with a clean ingredient list. With their manufacturing facility based in Australia, the brand has 100% control of their formulas and packaging to create a certified vegan and certified organic makeup line.
The range includes makeup primers, foundations, bronzers, and highlighters all containing silky textures that suit all skin types and complexions. Developed using high-performing ingredients to create luxurious scents, each makeup product includes freshly blooming flowers such as roses, sunflowers and jasmine.
"
If you've been looking for your perfect organic and cruelty-free makeup line, these are some of our favourite brands at LOYAL CRUSH for clean yet effective cosmetics to switch up your beauty routine. Your skin will thank you!

"
Loyal Crush Cruelty Free Make Up
Discover your own personal favourite in cruelty free make up brands with our unique selection that includes Ere Perez, SCOUT Cosmetics, RCMA and Zuii Organics. Find a combination that is uniquely you and feel the difference on your skin using natural makeup charged up with the special powers of superfood ingredients.