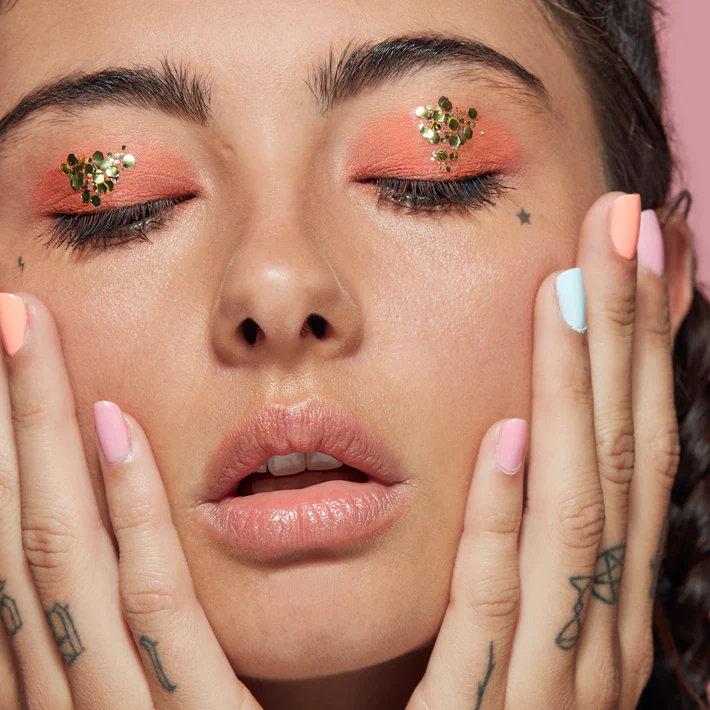 Our Top New Year's Eve Makeup Ideas
With a steady supply of beauty trends on their way in 2023, why not get ahead of the curve and begin the New Year with some of the latest and greatest makeup looks to come? Of course, New Year's Eve often calls for a little glimmer, glitz and glam, which can be amped up or softened to your liking for the perfect night of celebrations. It can also be a chance to experiment with something new, whether with a fresh colour, testing out a technique or making the most of the opportunity to get dressed up; we can guarantee it is going to be a great night!
A recent hack we have been seeing across the board from beauty influencers is the 'Reverse Eyeliner'. Before you start to think, I only just mastered a regular winged eyeliner, don't worry; it is not as technical as it sounds. It is effectively the exact same thing, but instead of focusing the eyeliner on the top lash line, you switch to the bottom. We like using the
Eye of Horus Liquid Define Liner
the precision tip helps to make it a seamless part of your makeup routine and is water-resistant and long-wearing so that you will look fierce all night long. Like curling your hair, everyone seems to have their own method when it comes to eyeliner, so if you have a tried and tested way of getting a killer cat eye, we salute you. However, if it often results in a never-ending uneven situation, there are a few tricks to getting it perfect so that you are never late to the party again! Create a soft dotted outline of the wing with the tip of your chosen eyeliner across your lash line, gradually go back over and connect the dots to give yourself a simple design that you can fill in. For this, we like to use the
Scout Cosmetics Pure Eyeliner in Blue
for an elevated twist to your everyday look. This fabulous shade comes in a soft crayon that glides on for a straightforward and foolproof finish. If you are after a super crisp, precise line, stick a one-inch piece of makeup tape and angle it based on how dramatic you want that flick; for the reverse look, place the tape over your top eyelid. Trace along your bottom lash line, following the edge of the tape for a clean-looking wing. Once the liner has dried, carefully remove the tape and voila!
Presenting you with another of the hottest looks for the coming year is the beautiful 'Blush Contour'. A variation on the ever-popular contouring look, apply the blush high on your cheeks for an added flush of colour and a little definition all in one swoop! This will subtly shape your face and give you a gorgeous youthful glow. A tapered brush will help create a more defined look; the
Ere Perez Eco Vegan All Beauty Brush
is designed just for this. Gently dab it with the
Scout Cosmetics Pure Colour Mineral Blush
and start where you usually apply your highlighter, dusting the orbital bones and sweeping up towards your temples. If you prefer a cream blush, the Flavedo & Albedo Dew Tint Rose Cheek Colour is easily blendable and gives you a non-sticky finish with a vivid pigment. Or, for an extra bit of golden colour, the
Ere Perez Rice Powder Blush & Bronze
is a delightful duo of both pink and tan; these warmer tones suit a wide range of complexions - ideal for sunshine filled New Year's Evening. If you love big, bold colours, then say hello to lips in focus. Opting for more dramatic and daring colours is all the rage right now, and we can think of no better time to have your lips ready for a midnight kiss. A polished pout is the aim and can be effortlessly achieved with a few hard-working products. Starting with deeply nourished lips will always give you the best results; the
Province Apothecary Repairing + Conditioning Balm
is made with a rich blend of plant-based oils that protect from extreme weather whilst relieving any dryness or chapped skin. Follow this with a strong and confident coloured lipstick. New Year's Eve demands a deep and dramatic choice, the
Carrot Colour Pot in Hey
from Ere Perez is a playful shade that can be reapplied as you desire for a darker finish. Finish with a coating of the
Mango Lip Honey in Pop
for a subtle gloss and added hydration.
And, it wouldn't be New Year's Eve without some serious sparkle and now is the time for some flirty fun with your eyeshadow. A cream powder will offer a long wear, while a powder will give you more room for blending different shades and manipulating your look as a whole. The
Flavedo & Albedo Velvet Eyeshadow in Berry Bronze
is a hybrid of the two, meaning you get the best of both! With a soft metallic pigment, you can also use this as a graphic under eye sweep. For a show stopping appearance, the
Boogie Night Gold Eco Gliter
from A Beautiful Weirdo offers a shimmery, light catching touch to your New Year's get up! Use as an eyeshadow, or sprinkle down your hair parting, sweep across cheeks, the skies the limit with this amazing, eco-friendly option. Wishing you a Very Happy New Year from us all at Loyal Crush!
"
Opting for more dramatic and daring colours is all the rage right now, and we can think of no better time to have your lips ready for a midnight kiss.

"
Shop Makeup for New Year's Eve
New Year's Eve often calls for a little glimmer, glitz and glam!