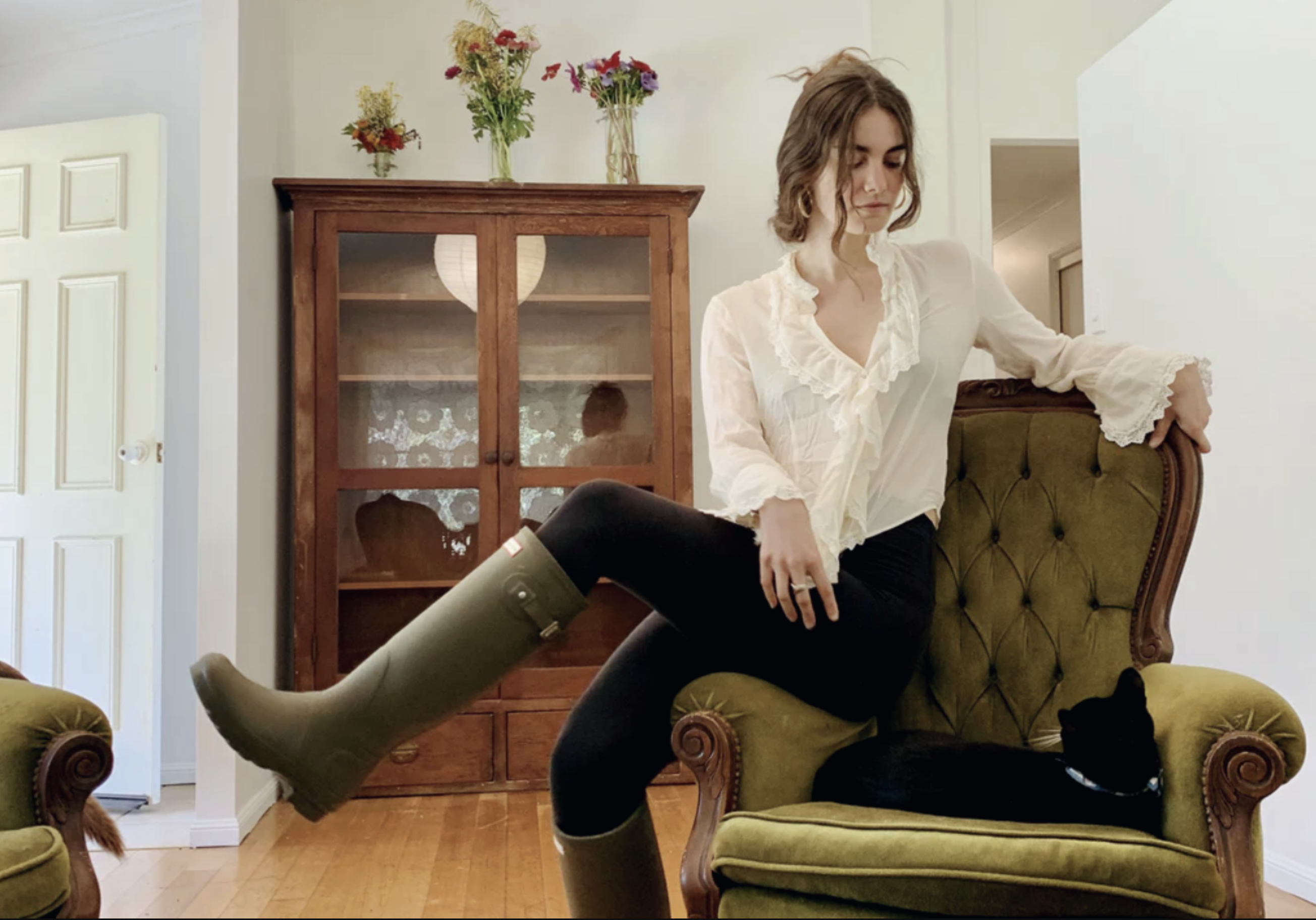 At Home With Sophie Haber
The delightful Sophie Haber took us into her sublime Byron Bay hinterland home and unveiled the inner musings of what makes her tick, her passion for creativity and guiding her students through the Seed of Remembrance course.
What inspired you to make the Seed of Remembrance Course?
I was inspired by the ability to build connection in a way that was totally new and out of my comfort zone. The Seed of Remembrance course was born out of my desire to bring women together, inspire creativity through hands-on practices, and take inventory for where we have come from and give curiosity to what's coming. At the time I was passionate about writing and storytelling and that in itself has been the foundation to what the course is about.
What is your skincare philosophy?
Our skin, like everything, has its own cycle and is always changing. The way I treat my skin is the way I honour what is cyclical within and around me. That being said, when I am in the first half of my cycle I love to use more exfoliants and juicy fresh masks whereas during the second half I focus on hydration and apply more oils.
What is your beauty philosophy?
Beauty goes beyond what we see on the outside and I believe when you embody the essence of beauty you radiate. May it be in the way you create or the way you have a conversation with someone, may it be with beauty. It is also in our thoughts and the way we think that summons beauty.
What is your skincare routine?
I love using a few different products and that is because from week to week my skin is changing depending on how my body is cycling internally. My staples are always a good creamy cleanser or oil based cleanser, an exfoliant, honey, herbal toner, and my serum. Depending on how my skin is feeling I will do a cleansing grains which is oats, white clay, and herbs such as nettle, calendula, and lavender. I also love a simple mask with straight honey for something lighter and clay for something more firming.
What other practises do you like to incorporate into your daily routine to help you look and feel your best, that help to boost your overall health?
Lately I love waking up to a morning practice that is some simple breathing, morning pages in my journal, psyllium husk in the morning to get my digestion going and a nice sun soak. Moving my body is huge for my mental health so I will try to go for a walk, do some yoga or pilates on a daily basis and that is what I call my church :).
What ingredients, superfoods or new natural discoveries are you excited about at the moment?
I have been loving beans! Its funny to say but adding more fiber into my diet has been so amazing for my overall health. Of course my grounding herbal infusions such as nettle and oatstraw as well. I have been trying to simplify lately rather than adding more to my diet but I absolutely love discovering and experimenting with anything natural.
Why is natural, non toxic and cruelty free beauty important to you?
I believe this is important not only for our own bodies but also for the world as a whole. I would never put anything on myself that I wouldn't put in the ocean or throw in my garden and that is truly beautiful.
What do you wish more people knew about natural skincare or leading a more natural life?
That it's a whole lot easier than doing the opposite. Its actually a lot cheaper and so much more rewarding! You deserve to be lavished with earth's beauty and that is what happens.
Any tips for getting involved with your Seed of Remembrance course and how to best incorporate them into daily life?
The Seed of Remembrance course can be applied to your life every day! Its a beautiful practice to weave in and out of. You can explore everything from food as medicine, holistic self care practices and emotional wellness. I always love to switch up the practices and apply new rituals to my day, after all there are so many different contributors that share unique wisdom.
Do you have any advice for someone who is new to your offerings?
Follow your curiosity and listen to what's calling you. What you put into the course is what you get out of it and there is so much to explore.
What is your favourite ritual?
Lately I love pouring myself a cup of tea and sitting in the sun. Giving all my skin some delicious sun food and warming my heart with some of my favourite seeped herbs. Its simple yet so grounding.
On a budget, what do you recommend to scrimp on? What do you recommend to spend on?
Scrimp on supplements and spend on organic veggies, fruits, and whole foods!
"
I would never put anything on myself that I wouldn't put in the ocean or throw in my garden and that is truly beautiful.

"
Fat And The Moon
Handcrafted, herbal concoctions unite to deliver your body the ultimate in skincare perfection. Fat & The Moon work with plants that are abundant, ethically harvested and organically cultivated to reflect the ultimate in self care.