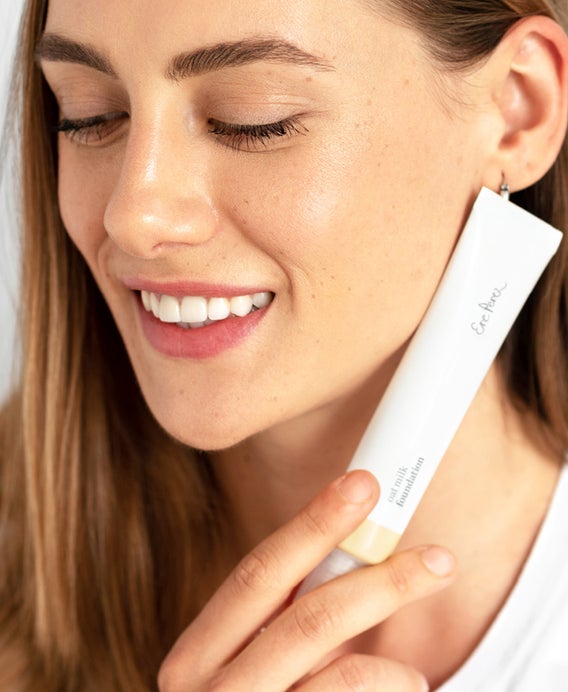 The Best Foundation For Dry Skin Australia
Finding the perfect foundation can seem like an almighty task; with a never-ending range on the market, it can be overwhelming trying to meet your perfect match, but we are here to relieve that burden.
Our range of nourishing, natural foundations blur the lines between makeup and skincare, as well as any other unwanted lines! No matter your skin type, there is a product suitable for even the most sensitive or dry skin to give you flawless coverage and that much-coveted glow-from-within look.
If you have dry or combination skin, a good place to start with foundation is actually not with foundation; sourcing a hydrating primer should be your number one priority. A primer will drastically change how your make-up sits on your face, giving you longevity with wear, and protection whilst maintaining a moisturised, dewy base.
The Grown Alchemist Anti-Pollution Primer is quickly becoming a beauty industry staple. With a pre-biotic peptide formula, this revolutionary layer smoothes the surface and gives you an effective epidermal barrier against environmental aggressors and blue-light damage. It is infused with soothing Ganoderma mushroom extract that soothes inflammation and blurs the appearance of pores, creases and other imperfections. Simply apply after your moisturiser or serum and allow it to dry before moving onto your foundation.
For lightweight, medium coverage, you can't surpass the Ere Perez Oat Milk Foundation; it is made with a collection of calming ingredients, including Vitamin E, oat milk and peach that your skin will love. It works to balance out any discolouration and gives you a gentle wash of colour whilst combatting irritations like dryness or rosacea, making it an excellent option for more sensitive skin types.
This foundation is beautifully buildable and blendable, so comfortably wear it underneath your choice of bronzer or highlighter to complete your everyday look. Apply a soft layer of this each morning and say hello to a luminous and effortless appearance, basically your skin but better.
If a multi-purpose product is more your style, the Eye of Horus Skin Tint Foundation with SPF15 is a life-changing goodie to have on hand.
Enriched with their signature blend of seven sacred oils packed with vitamins, antioxidants and essential minerals like hemp, pomegranate and moringa for plumper, healthier skin. The actives work to blur and diffuse the appearance of imperfections, blemishes and dryness with an impressive transfer-proof finish.
The versatile range of shades means you can choose whatever suits your skin's season or temperament with the knowledge that you have a reliable base and heavenly coverage all day long.
Sometimes you need something a little more heavy-duty in its performance but not with its consistency. Longer-lasting makeup can often result in clogged pores, so finding something that offers some serious staying power without the unwanted residue is undoubtedly something to celebrate!
RCMA's Liquid Foundation series is renowned for its superior, high-quality coverage and defining formula. This foundation is guaranteed not to budge; the anti-oxidation ingredients resist heat and humidity, resulting in porcelain, camera-ready skin.
Enhance your natural beauty and counteract shine simultaneously; this fuss-free option will give you a matte finish without looking flat. If you like to utilise your foundation to contour, the RCMA Foundation Palettes are another fantastic pick for drier skin.
The divine diversity of creamy pigments gives you endless ways to wear however you like from noon to night. Blend and build for a seamless, soft-focus finish that delicately diffuses light.
RCMA follow strict guidelines to ensure they meet the make-up world's colour standards and offer something suitable for every skin tone - we are all about inclusivity!
"
Our range of nourishing, natural foundations blur the lines between makeup and skincare

"
Foundations with Loyal Crush