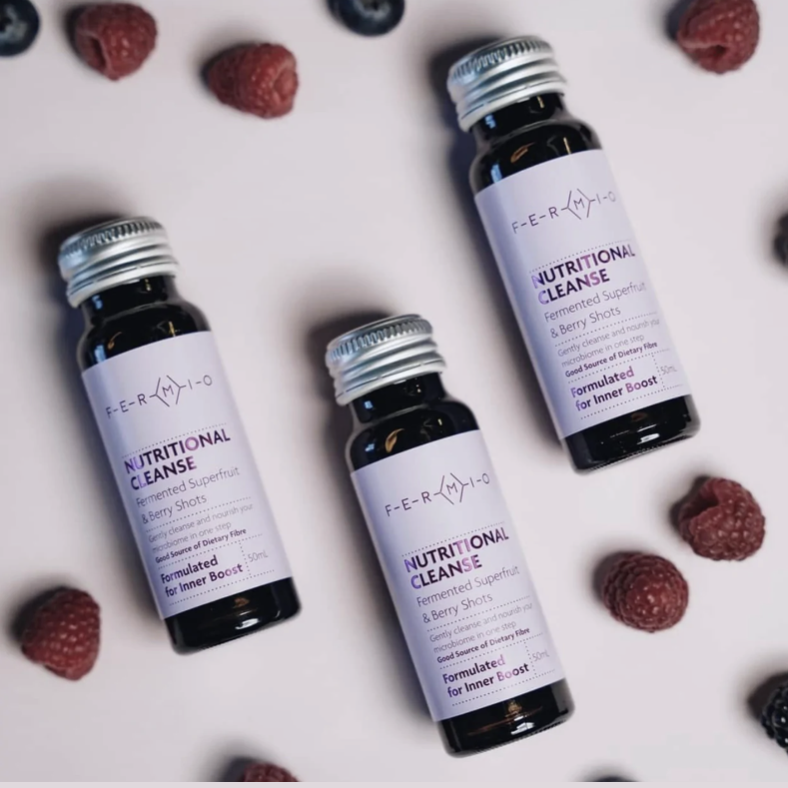 THE IMPORTANCE OF AN AUTUMNAL CLEANSE
Sometimes, it's essential to allow your body a little reset and a seasonal detox helps you flush out any lingering toxins, find your natural balance, and generally helps you feel more refreshed!
Starting simple with any supplement or dietary changes is the best way to ease into any effective detoxifying practices that you can introduce into your daily routine. We find that Autumn is the perfect moment of the year to invest in your inner well-being. With the weather cooling and the business of summer over, now is a great time to reinvigorate and reboot your immune system.
Showing your hardworking body some serious love is an enjoyable and empowering habit to get into. With the support of Fermio's incredible range of cleansing products, you won't have any trouble! Their Immunity Complex Tonic consists of 14 easy to drink tropical flavoured sachets made with invigorating ingredients like traditional Chinese herbs, adaptogens and plant actives that help build your body's natural resilience. Black ginger, water lily seed and wild honeysuckle flower all help fight inflammation and maintain a healthy circulatory system, which translates to a very healthy heart! Mix with sparkling or filtered water for a refreshing drink that works wonders on the inside.
If you want to focus on your digestive wellbeing, the Fermio Nutritional Cleanse is packed with fermented super fruits that restore your regularity and help heal your gut's natural microbiome levels. Simply have one bottle per day on an empty stomach; first thing before your morning coffee is ideal and a great way to start your day.
We advise committing to 8 consecutive days for optimal results and a full reset - this one is a particularly delicious detox!
For an effortless addition to your day to day routine, Bliss Elixir has you covered, and the Coco Immune is a fantastic place to start if supplements or adaptogens are a new adventure for you! This powder is full of plant-based power that assists your immunity defences and sustains your body's biochemistry balance. Simply mix with any warm milk of your choice for a delicious cup that feels like a big hug - enjoy throughout the day as an additional source of natural nutrition.
Another excellent cleansing choice from Bliss Elixir is their Yin Yang blend. The Dandelion and chicory roots are the very best in antioxidant ingredients, supporting the integrity of your liver and nervous system. The introduction of carob and vanilla extracts helps with cell renewal and when added to your daily smoothie or juice, it can give your skin a healthy, radiant glow.
Take your Autumn cleanse to the next level with a complete calming experience. Orchard St has developed a selection of herbal drops, each with its own potent qualities. We particularly love the settling Belly Drops with peppermint, marshmallow and chamomile that alleviate stress and help soothe your system. Take with tea, water or drop under the tongue after each meal for additional digestive enzymes that settle the tummy and give that little extra comfort.
When you start to reap the benefits of your cleanse, take some time to relax with a luxury bath soak from Shemana, with healing herbs and energising oils to awaken all the senses! Burn alongside some Orchard St Sage for the ultimate mind, body and spiritual purification.
"
The road to health is paved with good intestines

"
Autumnal Cleanse
Allow your body a little reset and a seasonal detox helps you flush out any lingering toxins, find your natural balance, and generally helps you feel more refreshed!