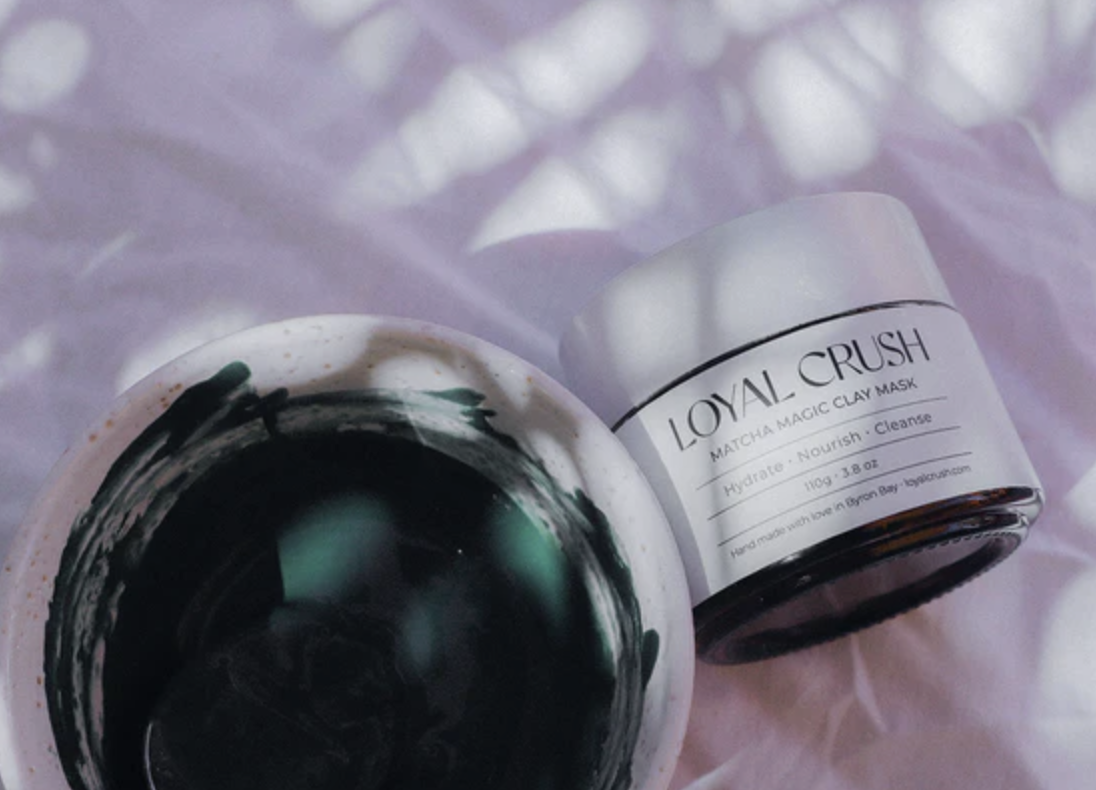 THE MAGIC OF TIKTOK'S VIRAL CLAY MASK
Skincare hacks on TikTok have gone viral. Wouldn't it be wonderful if you could discover a miracle to make your skin glow in just 10-minutes? Imagine if a natural and cruelty-free clay mask can beat against the best viral TikTok clay mask hack. This mask will solve all of your pore problems, blemishes, blackheads, breakouts, and pigmentation.
Say hello to the iconic Loyal Crush Matcha Magic Clay Mask, a wonderful clay mask to invigorate and refresh your skin. This mask is filled with some of the best non-toxic ingredients to help you with your beauty routine. Even if you struggle with sensitive and problematic skin types, this mask will extract all of your problematic areas.
Let's take a closer look at these natural and organic ingredients to see what makes this TikTok mask worth a try!
Bentonite Clay
The star ingredient in this clay mask, this natural volcanic clay has been used for ages for medical and skincare purposes to reduces the effects of toxins in your body. Known for its high-quality absorption benefits, it draws out dirt, acne-causing bacteria, and oil to heal your skin. All of which can cause acne, enlarged pores, and blackheads.
Its antibacterial and anti-inflammatory properties can heal and restore your skin to improve the appearance of large pores and discoloration. This ingredient will help fade away any dark spots and scars to naturally restore your glow.
Organic Matcha Powder
Known as Japanese green tea, Matcha powder is the most sought-after ingredient for younger-looking skin. Matcha can help your skin feel rejuvenated, appear brighter, and even slow down the obvious signs of aging. Catechins and polyphenols, two antioxidants found in Matcha, protect your skin from the harmful effects of UV rays.
With natural antioxidants and nutrients to help protect from age spots, dry patches, fine lines, and wrinkles. It also fights free radicals, effectively protecting your skin from the effects of harsh weather.
Organic Spirulina
If you suffer from acne and dark spots, Spirulina can improve the radiance and complexion of your skin. High in antioxidants, it's the ultimate detoxifier for your skin. Spirulina includes a variety of proteins to help renew skin tissue to repair any damage caused by aging or environmental damage. It's the main ingredient to help fade dark spots and hyperpigmentation.
Its anti-inflammatory, antibacterial and anti-aging elements help to detoxify the skin from impurities and defend against free radicals.
Aloe Vera
The last ingredient that makes this TikTok viral mask a success is the Aloe Vera ingredient. Known for its anti-inflammatory, antibacterial, and antioxidant properties. It's been used to clean wounds, relieve pain, and heal burns for ages. Because the skin requires its nourishment, Aloe Vera can cure, exfoliate, repair, reveal, and offer consistent nutrition to the skin. Added into a mask, it can hydrate the skin and treat cells on the epithelial level to lighten any dark spots and improve fine lines.
These amazing ingredients all formulate into one of the best-purifying clay masks to draw out all impurities, so why not make a hilarious TikTok video out of it?
"
Even if you struggle with sensitive and problematic skin types, this mask will extract all of your problematic areas.

"
Loyal Crush
With a belief that all good things come from nature, the Loyal Crush brand brings you the best of all natural wellness and beauty. Hand crafted with love from Byron Bay, these products are infused with vitality and bursting with healthy vibrations for your skin.