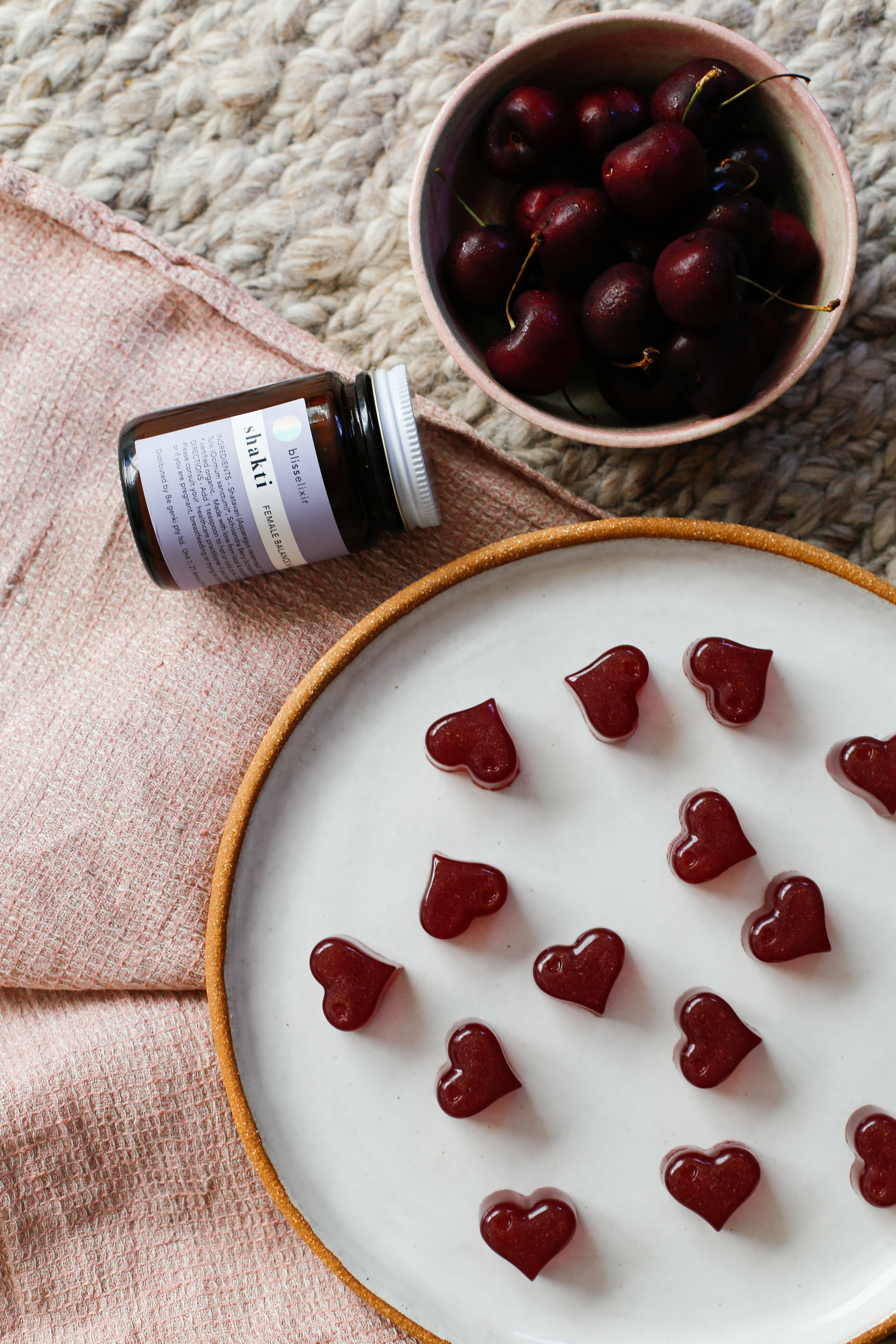 RECIPE: Galentines Gummies
Spread the looooove...
Grab your girls, a movie and some of these gummies and you'll have your Galentine's night sorted!
These bite sized gummies are rich in antioxidants and vitamin C, A and K from the use of cherry juice; spiked with Shakti powder which is full of adaptogenic herbs targeting the female physiology that focus on nourishing and beautifying with ingredients, shatavari and schizandra.
Gummies are so easy to make, they tend to be one of those things that once you start making them you don't want to stop.
Makes 40 small heart gummies
Ingredients
- 350ml pure cherry juice (or cranberry juice)
- 4 tbs agar agar
- 1 tsp Shakti Bliss Elixir powder
- 2 tbs maple syrup
Method
1. Add the juice to a small saucepan and sprinkle the agar agar on top and let 'bloom' for a few minutes. You'll notice it go all wrinkly, this is a good thing!
2. Add the Shakti powder and place on the stove to heat gently to dissolve the ingredients, stirring occasionally.
3. Remove from heat and add the maple syrup. Give the mixture a quick whisk/stir to make sure everything is combined.
4. Pour into the moulds of your choosing - heart shaped is ideal for Galentines!
5. Place in the fridge for at least an hour, until set. Remove found the moulds, they are very easy to push out of silicone moulds.
6. Store in the fridge for up to 5 days in a sealed container. Enjoy with your gal pals and some organic chocolate!
Vegan Option // Dairy Free // Gluten Free // Real Food // Adaptogen
Per Gummy Energy:584kJ Protein:0.4g Fat:0g Sat Fat:0g Carbs:1.7g Sugars:1.7g Sodium:2mg
Shop All Elixirs At Our Grocery