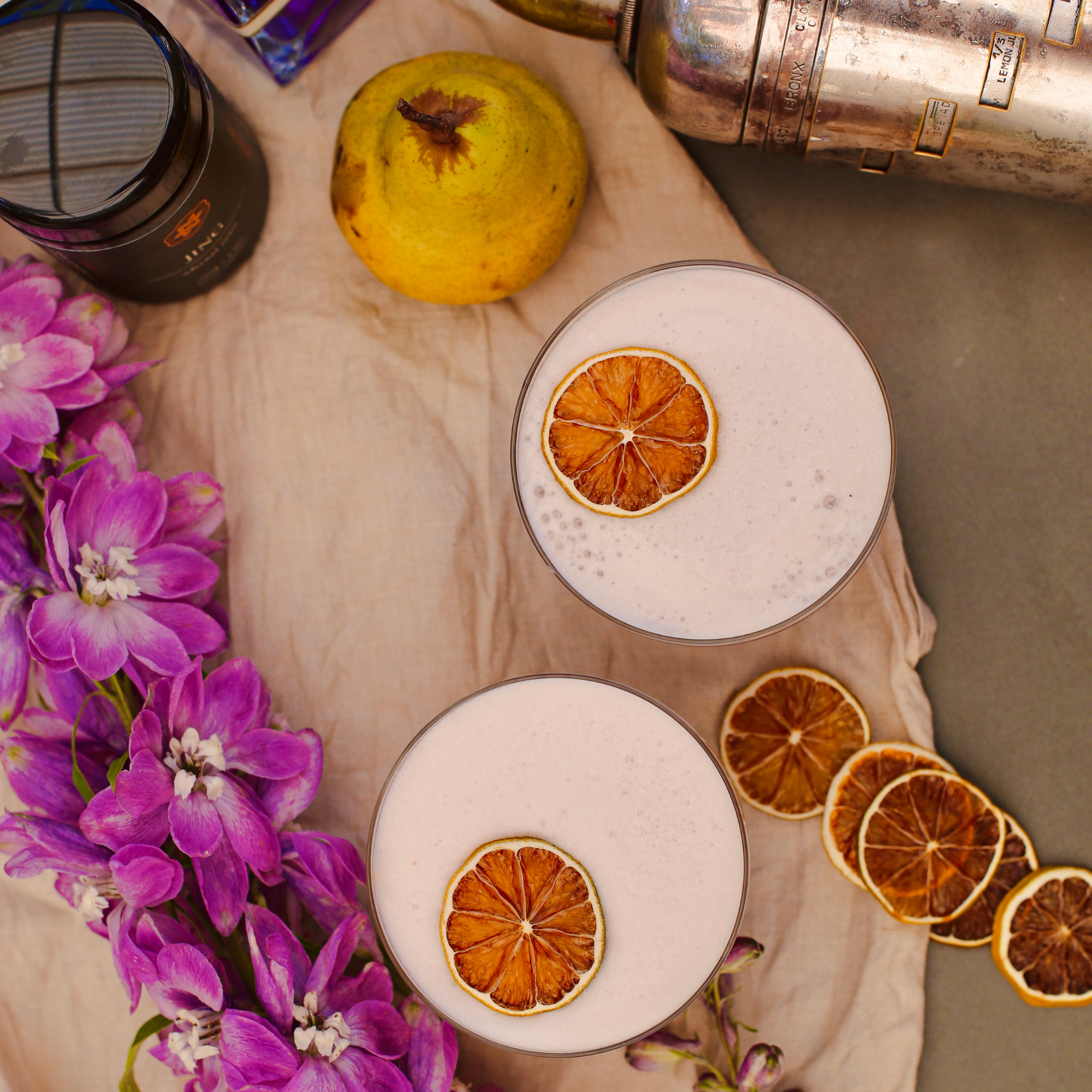 RECIPE: LOVER'S COCKTAIL
This cocktail is full of zing, jing and good vibes.
Real food (vegan friendly) ingredients,
Byron Bay Ink Gin
and
Superfeast Jing powder
combine to create a delicious and sexy cocktail that's easy to make and just as easy to impress!
The Jing powder contains a super-blend of the most revered 'Jing' herbs like cordyceps and goji berry which help to cultivate energy in the kidneys and adrenals, whilst also supporting healthy hormone function, stamina and libido.
Certain stages of life can leave us feeling like our libido could use some love so kick back, put on some music, grab your lover, a cocktail shaker and sip away.
Serve with a plate of oysters or some vegan chocolate for an extra aphrodisiac hit!
Serves 2
Ingredients
- 60ml Ink Gin - 30ml lemon juice - 1/2 tsp Superfeast Jing Powder - 30ml simple syrup - 30ml pear juice - 60ml aquafaba (chickpea water) - Good handful of ice
To serve: 2 x dried lime (or any dehydrated citrus or edible flowers)
Method
1. Combine all ingredients in a cocktail shaker
2. Shake and shake some more
3. Pour into your favourite cocktail glasses, the froth and the ice are usually at the bottom of the cocktail shaker.
4. Top with a slice of dehydrated lime and sip away with your lover! Santé!
Notes:
- Aquafaba is 'chickpea' water, a fantastic vegan option instead of using egg white to get the froth. So grab a tin of your favourite brand of organic chickpeas and pour out the liquid that is in the tin with the chickpeas - that's your aquafaba!
- Swap out the pear juice for a cloudy apple juice
- Simple syrup is very easy to make yourself, otherwise it's also available to buy and lasts ages!
Vegan // Dairy Free // Gluten Free // Real Food
Per Serve Energy:566kJ Protein:0.3g Fat:0g Sat Fat:0g Carbs:17.1g Sugars:17.1g Sodium: 1mg