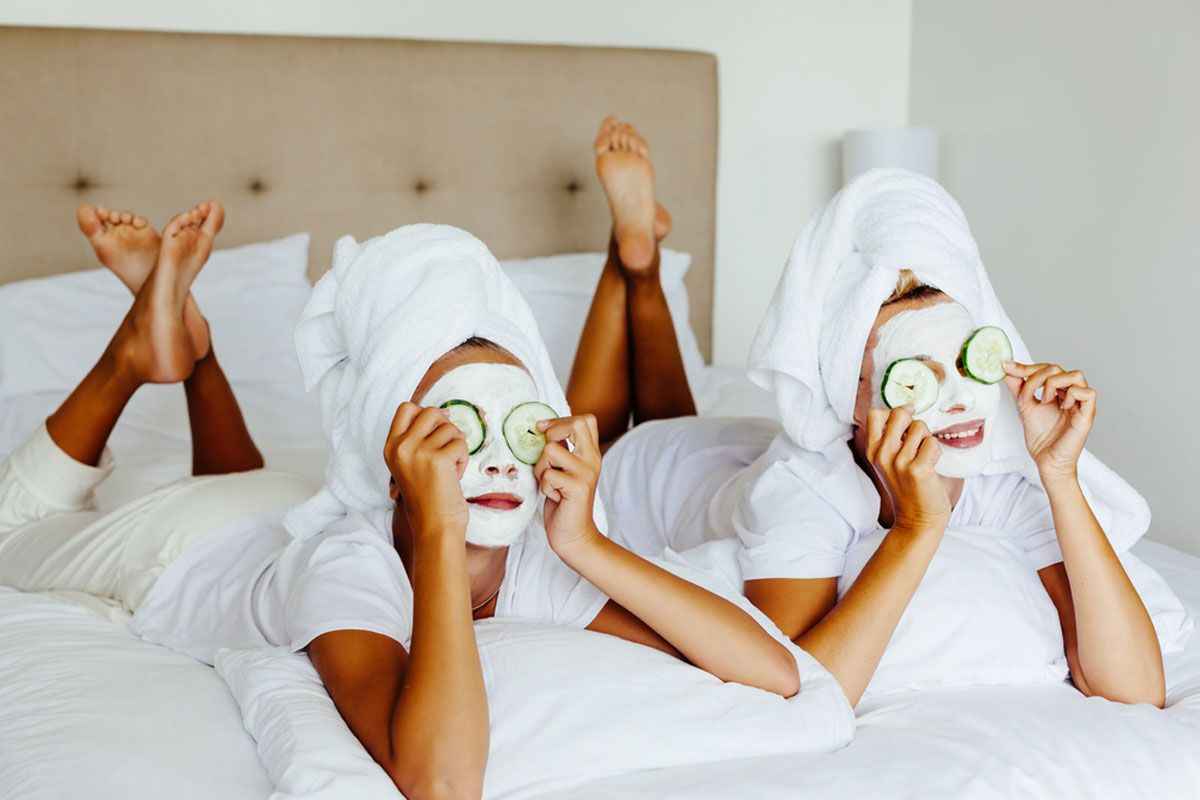 Girls Night In
Nothing beats a proper girl's night in and anytime is right to put your feet up with your favourite people, or just indulge yourself and enjoy some downtime at home. We all deserve a little pampering now and again, so settle in with a glass of vino, an old movie and some incredible products with a pamper session at home.
It wouldn't be a proper evening of indulgence without a good face mask - have a laugh with friends by sharing photos of your mask on social media and text your best funny face. Wash away any dirt build up with our favourite Linné Purify Wash & Mask. Start by washing your face with warm water then add your Linné mask and massage into skin. Packed full of vitamins, aloe and bentonite clay your skin will be left feeling soft and extra clean. Towel dry and add a little more to your dry face leaving on for another 10 minutes for the perfect detox style mask. Once your skin is rinsed and fresh, use the Orchard St Nephrite Jade Gua Sha to massage and relax your facial muscles to the max, moving from the centre of the face across the jawline to help drain your lymph nodes and reduce any bloating.
If you are having a solo night in, then a relaxing soak in the bath is a great way to truly rejuvenate. Salt And Rainbows Moon Day Ritual Soak is all about new beginnings, starting afresh with a cleansed body and soul. Sit with your crystal, some candles and let all your troubles float away. Their New Moon Candle is the ideal match to elevate your wellness, clarity and peace of mind.
Post bath calls for a little luxury oil to keep all those beautiful salts soaked into your skin for as long as possible, lather on the Indie Rose Body Oil, designed to calm the nervous system and boost your immune system with Frankincense, Rose Geranium and 24k gold leaf for that added indulgence. We suggest slipping into a fluffy bathrobe for that extra comfort.
Lastly, don't forget to spend a little time on your nails, it's a good idea to give them some time to breathe from polish and rehydrate properly now and again. Bare Hands Dry Gloss Manicure Kit is the saviour you didn't know you needed. With the delicious natural scent of Ylang Ylang and Citrine, you will be left with a healthy and shiny set of nails, without all the harsh chemicals and toxic fumes. Apply the cuticle oil generously to condition and the polisher for an organic style polish. Combine all of these for a dreamy night in, so good that it will start to become a weekly ritual!
"
Nothing beats a proper girl's night in and anytime is right to put your feet up with your favourite people, or just indulge yourself and enjoy some downtime at home.

"
Relaxtion Reccommendations