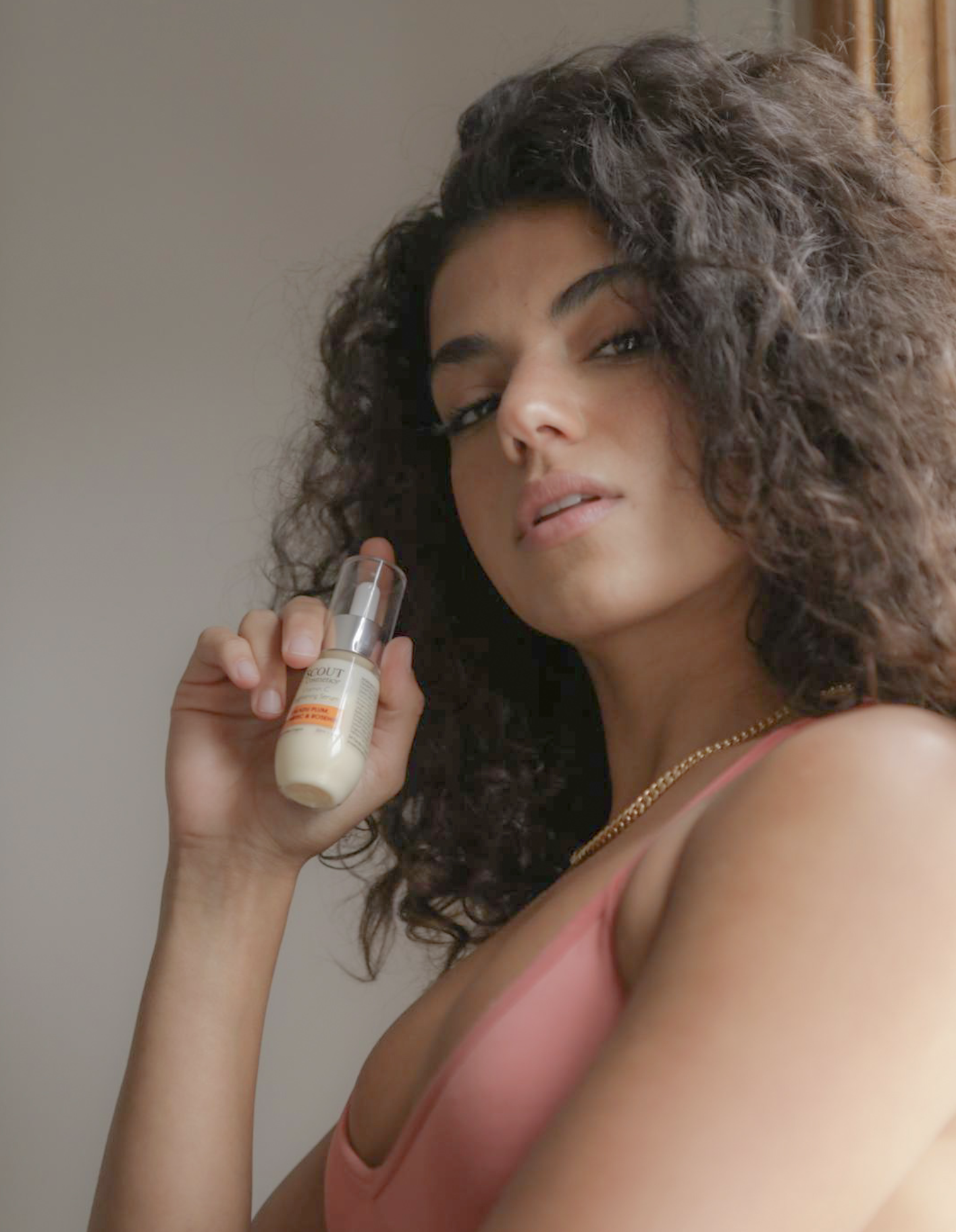 Power-Packed Vitamin C Brightening Serum
Vitamin C serums have been known for having a cult following, and with good reason too. It's the best-kept secret to a brighter complexion. It targets rough texture, uneven skin tone, fine lines, acne scars, dullness and hyperpigmentation. You name it, it'll help combat any complexion concern. As one of the most sought-after ingredients in skincare today, Vitamin C is known for achieving smoother, brighter results with continued use.
For an instant dose of Vitamin C, the SCOUT Cosmetics Vitamin C Brightening Serum is a tried and true favourite at Loyal Crush. This skin brightening serum is high in Vitamin C, which helps to increase collagen and elastin synthesis for a more young, radiant appearance. So, what exactly is so special about this potent ingredient? Let's take a deep dive into the SCOUT Cosmetics Vitamin C Brightening Serum and see just why this serum will help transform the appearance of your skin.
As one of the major skincare trends in recent years, the SCOUT Cosmetics Vitamin C Brightening Serum is power-packed with skin-soothing ingredients that are free from artificial colours and fragrances. With consistent use over time, this serum will increase firmness and collagen production to turn back signs of aging. This has it all for long term benefits. It'll help your skin look youthful in years to come when everyone else is wrinkling and you aren't.
Intended to soothe and revitalize the skin, this fast-absorbing serum is ideal for those looking for a powerful and potent serum filled with certified organic and cruelty-free ingredients.
The star ingredient of the show is Organic Kakadu Plum, known for its high Vitamin C content and antifungal qualities, it's more commonly used to treat fungal infections. Vitamin C is well-known for its ability to combat free radicals and enhance the appearance of aged skin. For those who suffer from blemishes, Kakadu plum is great for deep cleansing and washing out impurities. It helps to heal and revitalize the skin by stimulating the synthesis of collagen and elastin, which helps to decrease the appearance of wrinkles and fine lines.
Bring back that glow and lustre with Turmeric. Its natural antiseptic and antibacterial properties can decrease UV damage, clear up acne and reduce age spots or scarring. The next ingredient Organic Rosehip Oil assists to naturally brighten your complexion with its nourishing qualities which aid in the improvement of skin condition and brightness. As a great source of Vitamin A and Omega 3, 6 & 9 essential fatty acids, Organic Rosehip Oil aids in the prevention of premature ageing and smooth the skin.
The last ingredient in this power-packed serum is Aloe Vera Juice that can aid in treating fine lines, dry patches and sagging skin. It's super-hydrating with a high potency in antioxidants and vitamins that can lessen acne breakouts and soothe the skin from inflammation. Combined with Scout's signature multi-fruit complex of organic Davidson Plum, Desert Lime and Kangaroo Apple, this brightening serum can bring out an ethereal glow that you've been looking for.
If you suffer from sunburn, hyperpigmentation, fine lines, dry patches, or uneven skin tone, adding this potent vitamin c serum to your skincare routine will reap benefits. Even if you haven't started seeing fine lines, a vitamin c serum will preserve your skin and prevent signs of premature aging.
For any skin type including sensitive skin, ideally, anyone can use this brightening Vitamin C serum to prevent sun damage and minimize the effects of sun rays. It helps prevent sun damage and retain your skin's natural collagen.
When it comes to using a vitamin C serum, the best results are found when used every single day morning and night after cleansing and toning. Using a vitamin C serum every eight hours or twice daily and follow up with a moisturiser and sunscreen to protect your skin. Use a few drops of the serum massaged into your skin while using a Nephrite Jade Gua Sha tool can promote collagen circulation and aids in reducing signs of aging. For any remaining serum, pat on top of your hands, around the neck and décolletage.
It's important to note that a Vitamin C serum works wonders when your skin has been thoroughly exfoliated. Lack of exfoliation can cause a build-up of dead skin cells that can prevent further absorption into the skin.
"
"When our emotional health is in a bad state, so is our level of self-esteem. We have to slow down and deal with what is troubling us, so that we can enjoy the simple joy of being happy and at peace with ourselves." Jess C. Scott

"
Shop Scout Cosmetics here
High performing, natural products that are the perfect combination of meticulous research and innovations in science. Using Peptides, Hyaluronic Acid, Niacinimide + vitamins and botanicals to create profound skincare that really makes a difference.